As we acknowledge with heartfelt thanks the beautiful messages we received from you, our dear Rose Friends … your words of comfort helped ease our pain and we are sincerely grateful! As Maree wrote: "… it's strange but I feel, like many of your customers must feel, that you are more like our friends than our rose suppliers. This is the joy of roses, they bring people closer together."
We can all breathe a sigh of relief that this very hot month of summer is beyond us! Here's some timely advice from Graham to get us through February which is usually the hottest month of the year in most regions …
---
GRA'S GARBLE …
Q. What's the laziest mountain in the world?  A. Mount Ever-Rest.
Since you've probably had a good rest over the Christmas break, as of tomorrow, Friday, 1st Feb and all days until late on Tuesday, 4th Feb are perfect days on the Lunar Calendar for WEEDING YOUR GARDEN – be it by hand-weeding or spraying.
If you cut the lawn this weekend it will be slower growing – this is also the best time for dethatching or coring lawns – fertilize also!
During the next four days, you can Summer prune your roses – you can remove around 1/3 of the bush but remember to leave as much foliage on the plants as possible to protect them just in case we get more severely hot weather!!!
It's a great time to fertilize all established plants – water in well afterwards!
Make a compost heap – there are lots of fallen leaves already due to extremely hot weather conditions so make use of those leaves.
Prepare soil and fertilize garden beds for autumn/winter planting.
Take advantage of the phases of the moon to make your gardening chores really effective – yes, it's all true and does work!
---
EFFECTS OF INCREDIBLE HEAT ON ROSES…
During extreme heat, your whole garden will be affected and show signs of stress however, you might notice the following on your roses:
SMALLER BLOOMS – ENJOY THEM OR TRIM THEM OFF
ODD COLOURS – SOMETIMES MUCH PALER BUT CAN ALSO BE MORE INTENSE
YELLOW / SCORCHED LEAVES – DEEP-SOAK WATERING MORE FREQUENTLY
DIFFERENT FRAGRANCE – INTENSE HEAT CAN ELIMINATE THE PERFUME
NO FUNGUS ISSUES – HEAT WILL BURN-OFF FUNGUS
In all weather events there are positives and negatives – a good deep-soaking watering of the garden will make all the difference so bring on the rain! Please do pour ECO-SEAWEED solution over ALL roses – it's a tonic for them in this hot conditions!
Here are a few roses which look absolutely stunning in the nursery right now …
PEACE is known all around the world and there is a beautiful book by Antonia Ridge FOR LOVE OF A ROSE which tells the story about the creation and the families involved in it's creation – a story of love, dedication and life during war-torn Europe.  PEACE is a most magnificent rose – delightful large blooms of creamy yellow with a hint of pink at the edge of each petal and a lovely sweet fragrance.
PEACE makes a wonderful specimen as a 90cm STANDARD ROSE.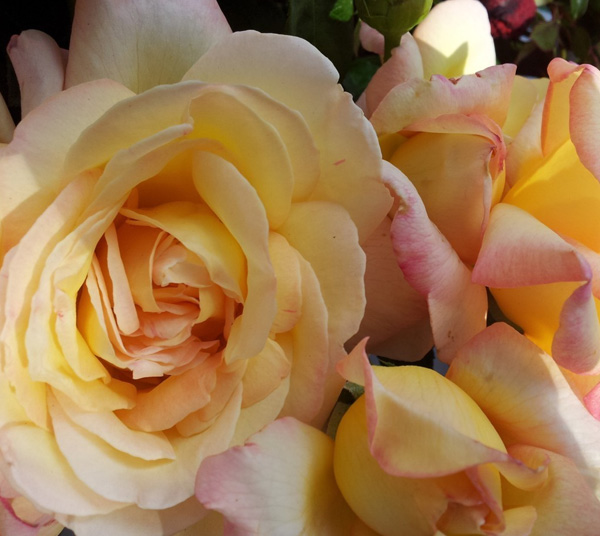 ---
JUST JOEY – Hybrid Tea rose with charming waved petals of creamy-buff-copper, very free flowering habit – a true delight!
Huge highly fragrant flowers with waved petals
Sensational standard rose specimen
Healthy foliage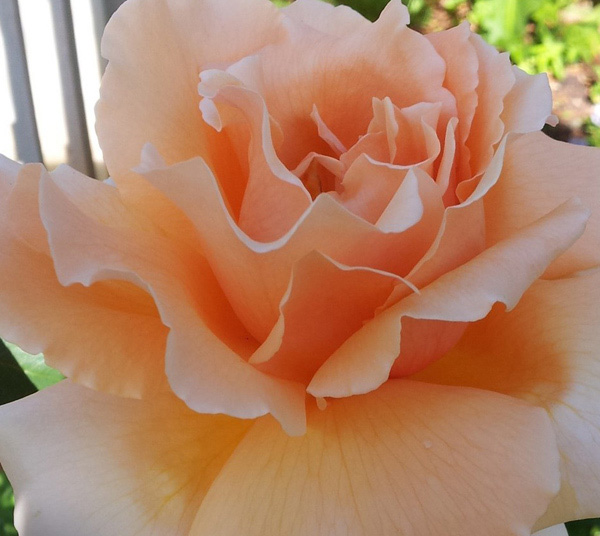 ---
LA SEVILLANA – Floribunda rose bright, vermillion-red with every single quality a grand rose should have.
Bullet-proof bright red landscape rose
Exceedingly free flowering in all conditions
Low maintenance rose
Ideal for long driveways and landscape planting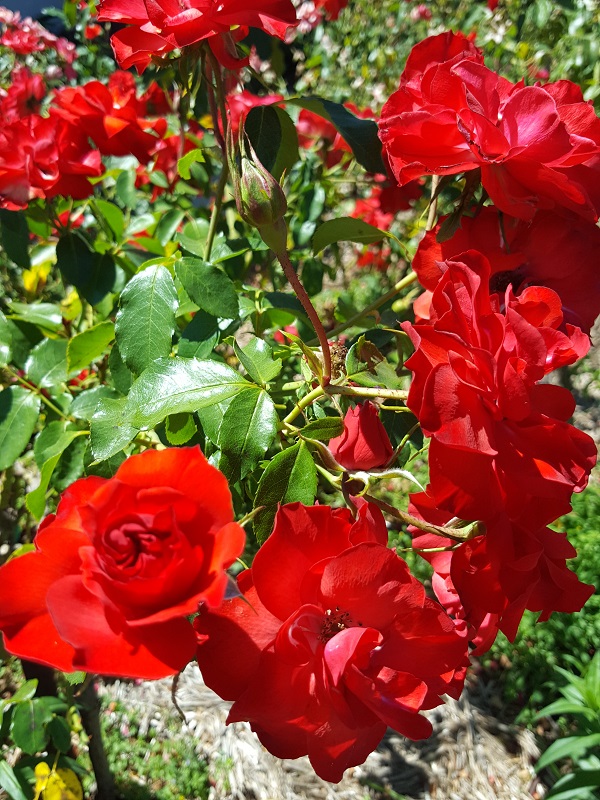 ---
FRIESIA is a refreshingly bright canary yellow flowered Floribunda rose.  This rose will definitely lift your spirits and so will it's fragrance.  Nice dark green foliage, free blooming, and compact growth.  If you want a yellow this is one we highly recommended.
Bright canary yellow blooms
Beautiful fragrance
Free blooming
Nice dark green foliage and compact growth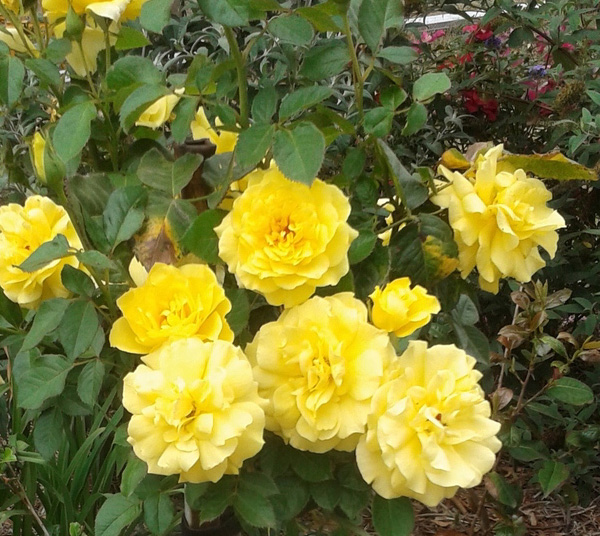 ---
Double Delight is a bushy plant and can grow to 1.5mts – particularly loves the hot weather when the cerise border becomes very defined and the fragrance supreme. In humid, wet weather, Double Delight sulks and the blooms refuse to open; the foliage is very susceptible to black-spot so this rose should be planted with lots of air circulation and few or no other plants around it.
Extremely distinct coloured cream with carmine border
Very highly fragrant blooms
Bushy growth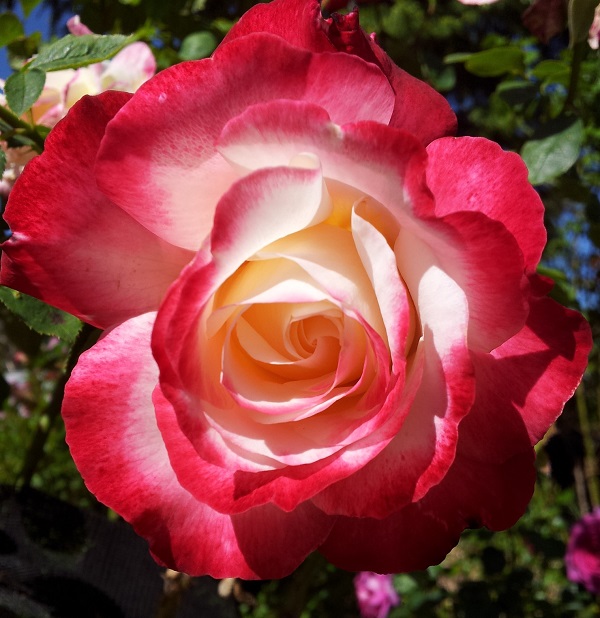 ---
All the above varieties are price-reduced because they look so sensational and we want you to buy them NOW …
ONLY $27.50 – save $5.00 per plant until
4.00pm MONDAY, 11TH FEBRUARY
– this offer is valid for our online customers too!
We trust you're pleased the kids are back at school – they're probably relieved and happyto start the new school year adventure! Best wishes to you all …
Graham, Diana, Mooi and the team at Clonbinane