HAPPY NEW YEAR to our beautiful ROSE FRIENDS …
even though we tagged an extra week of holidays this Christmas break, it doesn't seem long enough but we've enjoyed all the moments shared with family and friends! Hope you're still enjoying time off …
---
GRA'S GARBLE …
DEATH OF DAVID AUSTIN – ROSE GROWER/BREEDER EXTRAORDINAIRE …
It is with great sadness that the Austin family announces the passing of David C. H. Austin Snr., OBE, VMH, rosarian and founder of David Austin Roses. David Snr died peacefully at his home in Shropshire on Tuesday, Dec. 18, 2018, surrounded by his family. He was 92.
When we commenced our business in 1996 some of the first David Austin roses we sold were MARY ROSE, HERITAGE and GRAHAM THOMAS which are still readily available and very popular today.
MARY ROSE is a very popular David Austin rose and for good reasons.  It is prolific, bushy and has a great fragrance. Masses of  loose petalled, double rose pink blooms appear throughout the season – you will not be disappointed.  It is a reliable bushy shrub, great health and fantastic for filling an empty space in the garden – this is not a leggy rose by any means and can be trimmed mechanically if planted 'en masse'.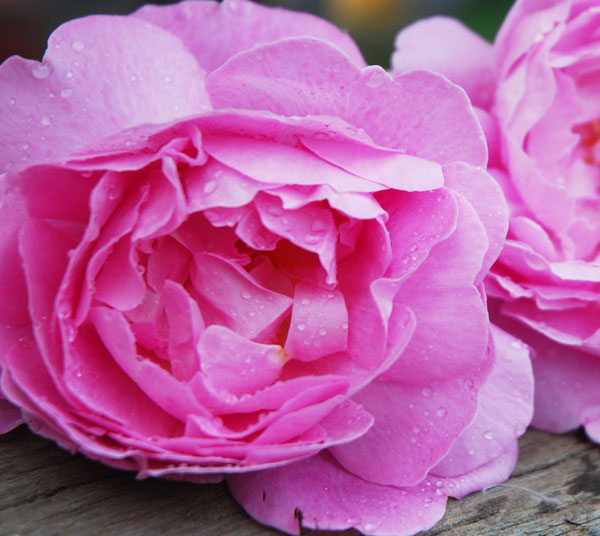 David Austin Shrub Rose – one of the earliest and original English Musk roses.
Bred by David Austin, UK, introduced in 1984 this beautiful rose already graces many Australian gardens as an extremely useful rose hedge.
Heritage produces masses and masses of soft blush-pink medium sized blooms which are distinctly cupped in shape. The flowers are freely produced which is just as well because they do not last long – not on the bush and certainly not in a vase.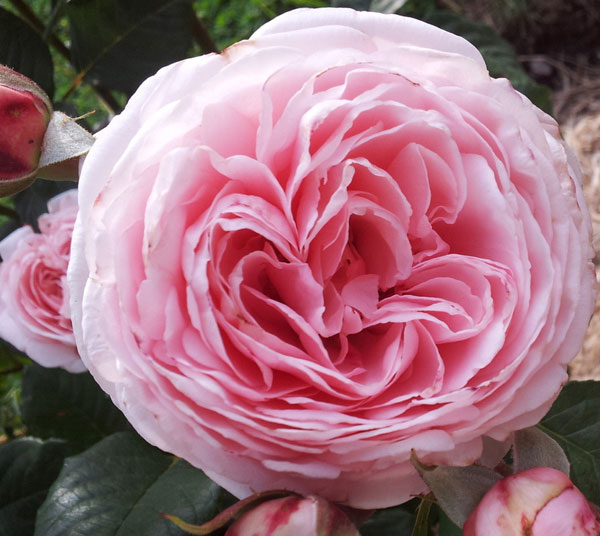 GRAHAM THOMAS is a magnificent David Austin rose of creamy yellow blooms continually on a very large, healthy shrub which is suitable to grow as a hedge-row 1.5 x 1.5 metres.  This quick-to-repeat shrub is always flowering and very showy.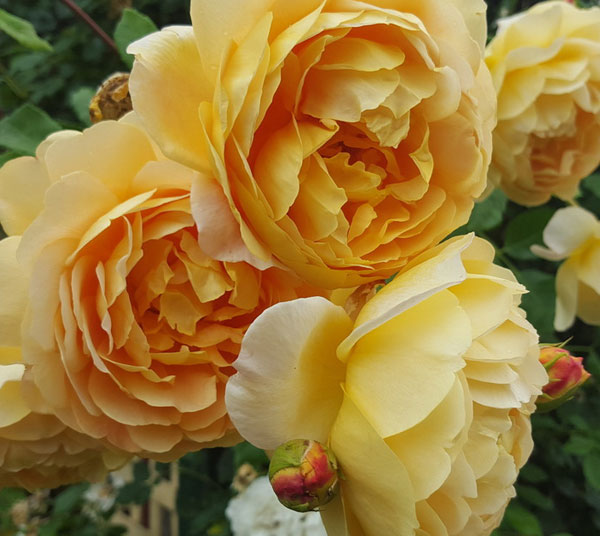 David Austin's legacy will most definitely continue as his more recently released roses are so magnificently healthy, superbly fragrant whilst retaining the delightfully old-fashioned charm we all so much appreciate in the English roses.
---
ROSE BREEDING …
Now is a great time to be out in the garden cross-pollinating your favourite roses – there is lots of information in Dr. Google but I'll follow my grandson, Logan's advice which was to lick his finger and take the pollen from one rose and place it on the fresh stamens of another – "so what Poppy, if a bee comes along and adds something to this pollen, it could only make it more interesting and exciting when the new rose blooms for the first time" … have a go yourself!
Mark the pollinated stem with a tag of some sort so that you don't dead-head that stem!!!
Q. Why did the fish jump out of the water? A. Because the sea weed!
When you nurture the cross-pollinated rose plants with regular seaweed solution and fertilizer applications, seeds will set late summer/early autumn. Then you remove the seeds and plant them – there's a little bit of David Austin's rose-breeding success dormant in all rose lovers! Have a go!
VISITING CLONBINANE THIS SUMMER …
For a great day out, jump in the car and come for a visit to Silkies Rose Farm, CLONBINANE during January knowing that you can request a MEAL VOUCHER for lunch at the MAGPIE AND STUMP HOTEL, WANDONG – each voucher is valued at $10.00 and since we regularly eat at this local venue, we assure you of a great dining experience at our local pub!
ONE $10.00 MEAL VOUCHER
PER COUPLE DURING JANUARY, 2019.
Q. What do you get if you cross a worm and an elephant?  
A. Very big wormholes in your garden!
RE-OPENING SPECIAL
SUMMER PROMOTION
FOR VISITORS TO SILKIES ROSE FARM, CLONBINANEBUY ANY FOUR ROSES – GET ONE FREE – VALUE up to $39.50
FOR ONLINE CUSTOMERS
BUY ANY SIX ROSES – GET FREE PACK/POST – VALUE $56.50
(when ordering please request FREE SHIPPING FOR GIFT ROSE or
PICK UP AT ROSESALESONLINE to get this offer)
BE QUICK! Offer available till 24TH JANUARY
May your roses enjoy a deep-soaking during these extreme weather conditions and may you enjoy the rest of this holiday season … best wishes from Graham, Diana and the team at Silkies Rose Farm, Clonbinane