Hello dear rose friends … we slipped out for a few days last week to go and see Graham's own rose in the Trial Grounds in Adelaide.  WOW!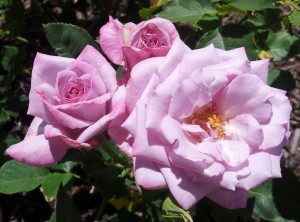 GRA'S RAMBLE … I never thought I could breed my own rose and to see it flowering in the National Rose Trial Grounds was a real hoot! Read this the other day, a bloke called Walter Bagehot wrote it and it was how I felt along the way while I was cross-pollinating, harvesting and setting the seeds – waiting, waiting for a stunning rose to emerge :
THE GREATEST PLEASURE IN LIFE IS DOING WHAT PEOPLE SAY YOU CANNOT DO!
(Editor, Diana's note:  Now I understand why he has 10 minute showers, leaves lights on all the time and drives home the long way … damn that Walter bloke for telling him it was okay to do things he 'cannot do' someone please send him a verse and tell him about what he 'shouldn't do'!)
Climbing Roses that are FANTASTIC –
CREPUSCULE – a buff/apricot colour which flowers for 9 months, can be pruned with a hedger, has almost no thorns and is lightly fragrant.
MME. ALFRED CARRIERE – most magnificently perfumed white rose with a blush centre in cool weather, flowers nearly all year – certainly the first and last to flower and is almost thornless.
GOLDEN CELEBRATION – gorgeous flower as big as a pie, swirling mass of petals filled with sumptuous perfume and all the class of a great David Austin rose.
All climbers enjoy a trim when the flowers are finished and they will be back flowering in 45-50 days … great value!  Do let us help you select the very best climber suited to the situation you would like to cover with beautiful roses.
My good friend Sue at the Whittlesea Court House sent this tip to share:
My tip for weeding (not that I can do it much now – well not on my knees anyway) use some of the bubble wrap plastic to kneel or sit on. I scored some of the larger stuff – about inch size bubbles from some packing, which is great. I have a long sheet of it so can put it down and move along, sometimes doubling it over for more padding. Easy to clean – shake off the dirt or hose it if gets muddy. Haven't tried the small bubble wrap but the big stuff works really well and I just fold it away in my gardening stuff. Unfortunately it doesn't come with anything to hold onto to get up. Yes I need something now!!!!
Q.  What did the lawyer name his daughter?  A. .. wait for it ….. SUE !   Keep smiling … Gra
SUMMER ROSE CARE SEMINAR WEEKEND …
THIS SATURDAY 23RD AT 10.00AM  &  SUNDAY 24TH  NOVEMBER AT 1.30PM
Yes, we know it's not Summer yet but the rose care skills you need to have your roses looking their best for Christmas and beyond needs to be planned so come along to a session with Graham in the garden this weekend … booking would be handy but not essential.
MOON PLANTING GUIDE … There has been an overwhelming request for more dates to be published, so this will lead you well into Summer:
No sowing on 25th November.  Best sowing/planting from 1.05pm on 27th, all day 28th to 5.00pm on 29th.  No sowing before 7.55am on 3rd December.  Best sowing/pruning days from 8.00am on 3rd to 11.50am on 4th;  all day on 7th and 8th to 12.50pm on 9th.  More in 2 weeks!
SOMEWHERE OVER THE RAINBOW … A little dream comes true in the form of MOOI LILY (translated:  MOOI : beautiful in Dutch and LILY : 6 year old Logan wanted to name her this) our darling little miniature poodle has stormed into our hearts and become a part of our lives.  Do introduce yourself when you next visit us at Clonbinane.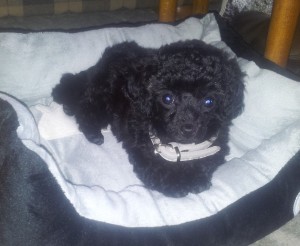 IN CLOSING … "How wonderful it is that nobody need wait a single moment before starting to improve the world" … Anna Frank wrote in her diary written during the invasion of Holland in World War 2 and very much necessary for us to remember every day in these last days of 2013 and onwards – be happy and positive while the roses bloom so delightfully!
Diana, Graham and Mooi Lily at Clonbinane
FOR MORE INFORMATION ABOUT EVERY ASPECT OF ROSE GROWING, LOG ON AND CONTRIBUTE TO allaboutroses.com.au