Hello dear rose friends as we come out of hibernation with just two days of what has been a very frost and wet winter.  All the rose gardens are pruned and with lots of sunny warm days recently and in the future forecast, we'll be flowering early this year!
---
GRA'S GARBLE…
… My friend Jeff shared this joke:
Q: How does an Eskimo build his house?   A: Igloos it together…
WILL THERE BE …?  
This past week we have been amazed at the number of rose lovers who want to buy WINX … this is what Jacquie wrote after she ordered BLACK CAVIAR –  …
"Thank you Diana – I look forward to receiving her, she is my favourite horse and I love roses! 
Maria wrote and sent this pic …
"Black Caviar. As beautiful as she is!!!  Are they going to have a Winx rose??"
---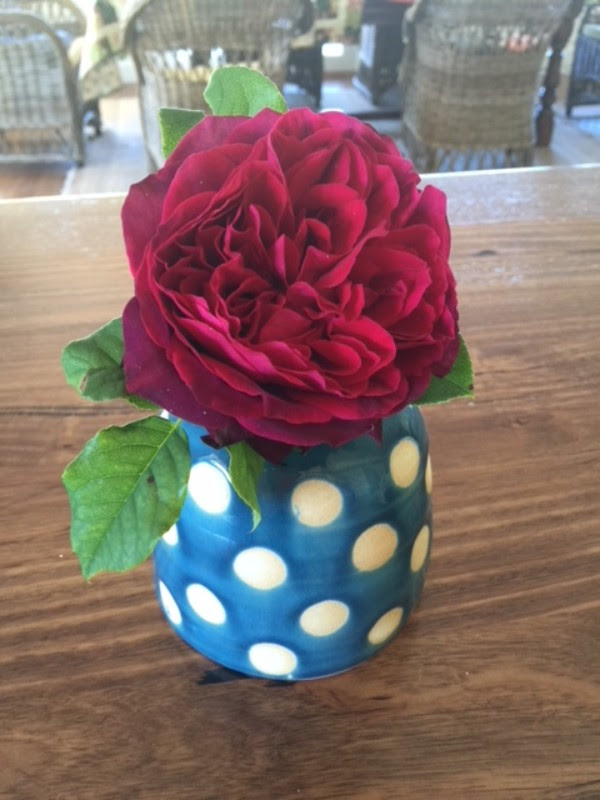 Let's see which of the large rose growers release a rose in honour of this even more successful mare WINX – we'll keep you posted for sure!
PESKY INSECTS…With spring in the air, your roses might become subjected to infestations of aphids just like Chen's …
"Would you mind having a look at the photograph that I have attached here to help me work out what the bugs might be. I know that one of them is an aphid, but I do not know what the other bug is."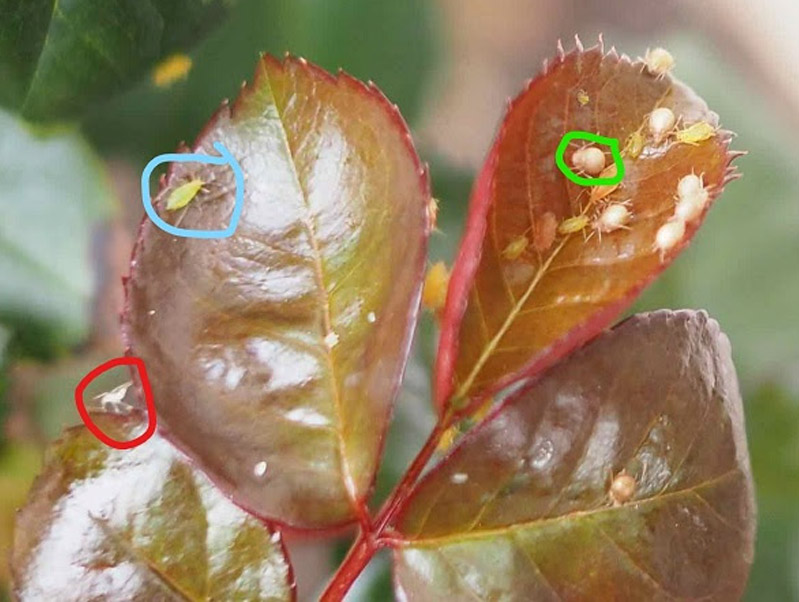 Steve Falcioni who is our expert and 'go to guy' at Organic Crop Protectants (OCP) says:
I've circled the pests in different colours as follows:
Blue = aphid
Red = skin/shell of aphid discarded after moulting
Green = dead aphid (known as a 'mummy') that has been killed by a parasitoid wasp. The tiny wasp injects an egg into the aphid which hatches and feeds on the insides of the aphid.  The aphid swells up and then dies with a new wasp emerging to continue on the cycle.
Anything to do with insects or disease on roses will be readily controlled using our organic rose spray management program – if you start the spray program NOW, you will be working on the principle of PREVENTION IS BETTER THAN CURE!  
Sprayed at least once a month offers your roses healthy protection from pest and disease problems.  If your roses become infested, you must spray immediately then in 3-5 days and again in 7 days and possibly once more 7 days after that.
The organic management program is very effective, economical and easy to apply –
TO 10 LITRES OF WATER, ADD:
1 SCOOP ECO-SEAWEED (follow pack directions of your preferred       seaweed)
1/4 CUP ECO-ROSE (ECO-FUNGICIDE)
1/4 CUP ECO-OIL – INSECTICIDE / DISPERSANT
If you are time-poor, you can pour these products over plants from a watering can but we highly recommend spraying plants to run-off – remember, NEVER SPRAY WHEN TEMPERATURE IS EXPECTED TO REACH 30 DEGREES OR MORE!
It is most effective to implement this program first thing in the morning when the foliage stomata (pores) are open and your roses are very receptive to this spray.
Rather than a joke, let me share this …
CHINESE PROVERB:
When someone shares something of value with you
and you benefit from it,
you have a moral obligation to share it with others.
---
YES, WE'RE STILL POSTING BARE-ROOTED ROSES …
And will continue to post them throughout SEPTEMBER so don't panic but get your garden bed cultivated and ready to plant some beauties like these beauties which are seriously long-lasting cut flowers:
---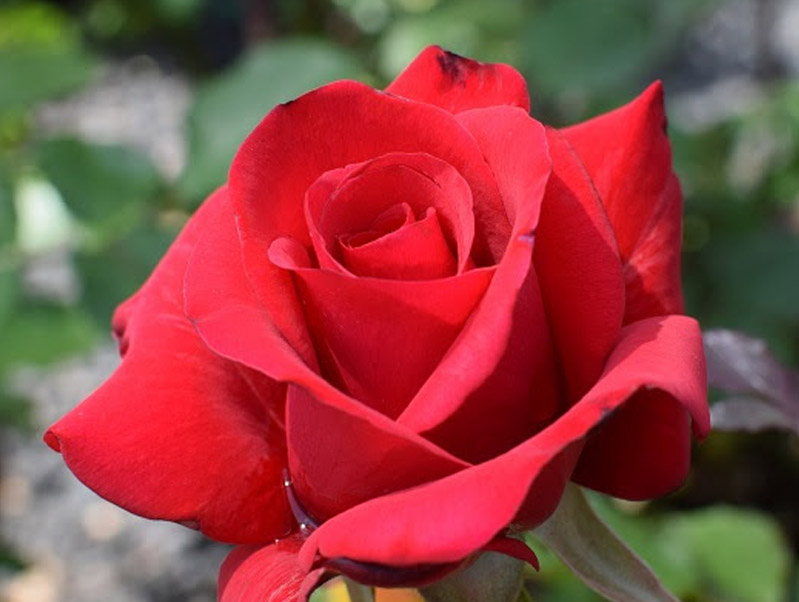 ---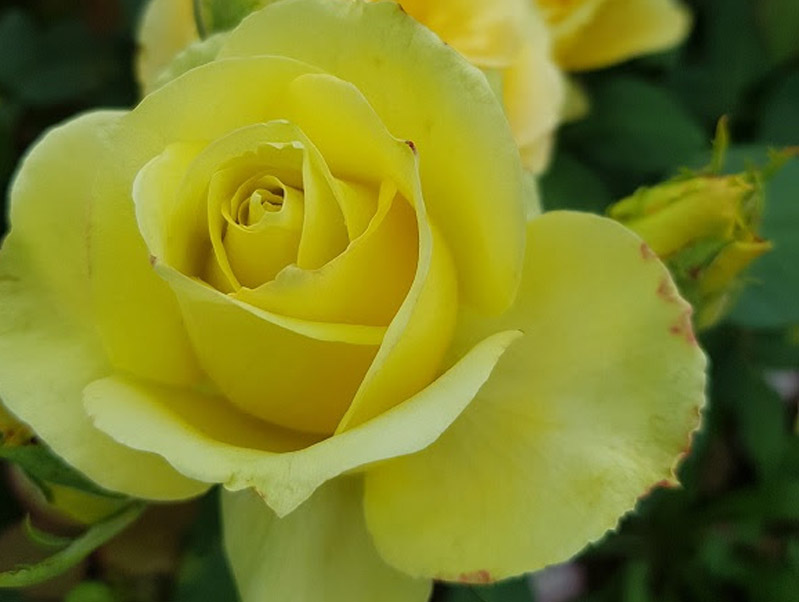 ---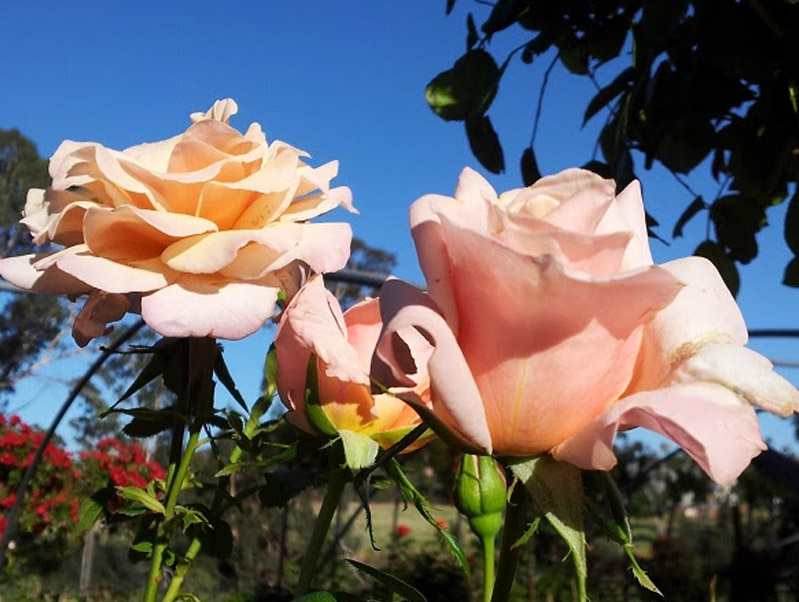 ---
If you're doing a spring-clean weeding in your garden, the most beneficial days according to moon phases are from September 4th – 8th so get weeding during those days and you'll notice the weeds are easy to pull and won't return as readily!  IT DEFINITELY DOES WORK!
Have a beaut week in your garden …
---
TESTIMONIAL TO SHARE:
Hello Diana,
Just to let you know that the rose I ordered on Sunday afternoon arrived safe and sound on my front around an hour ago (Wednesday morning) and how impressed I am by how promptly my order was completed, the quality of way my order was delivered and how Australia Post kept me up-to-date by both text and email with how delivery was progressing.
This was the first time I'd ordered a rose online from anyone and would certainly do so again from you; taking into account, too, that I noticed, when in GardenWorld on Monday, that your pricing was on a par with theirs for quality roses.
Best wishes, David