Hello dear rose friends as we enjoy a respite from the searing heat of this past week and one of the hottest summers in years. Our roses never cease to amaze us with their extreme resilience to such harsh weather!
So, to celebrate their beauty and to recognise this LABOUR DAY HOLIDAY WEEKEND, we're inviting you, our dedicated customers FOUR DAYS OF UNPRECEDENTED OPPORTUNITY to buy ANY TWO POTTED ROSES AND GET TWO FREE!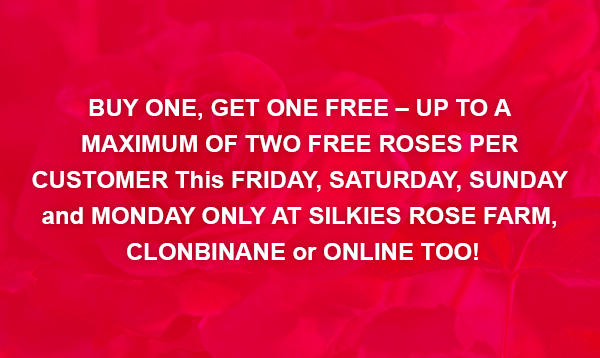 This offer is also available to our online customers at www.rosesalesonline.com.au who can expect to receive FOUR ROSES for every TWO ORDERED! (We can strap two boxes together with two roses in each box and you'll only pay the postage price of TWO ROSES – $29.50 for up to FOUR ROSES – delivered to your door by Australia Post.)
IF ORDERING ONLINE YOU CAN SPECIFY WHICH POTTED ROSEShttps://www.rosesalesonline.com.au/ YOU PAY FOR and then IN THE COMMENTS SECTIONtell us which TWO FREE ROSES you wish us to send to you. If you cannot decide, then we'll post our very best roses at the time of posting on TUESDAY, 19 TH MARCH, 2019!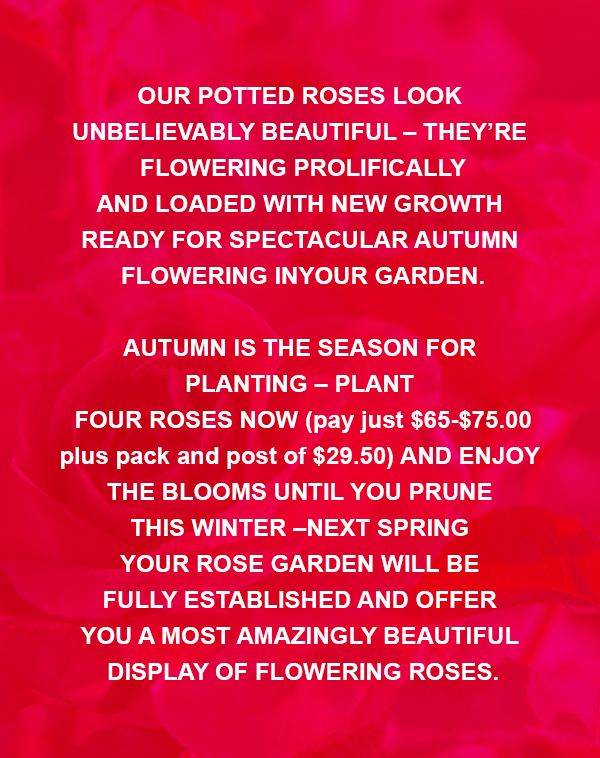 ---
GRA'S GARBLE …
When you plant your new roses, please remember to soak them, absolutely drench them when you first plant them and pour ECO-SEAWEED solution over them at planting and then at least once a fortnight thereafter – the benefits of seaweed application on roses is amazing and highly recommended for good health and profuse flowering – remember, the more foliage on any rose plant, the more flowers! It's true!
---
See you this coming weekend at Silkies Rose Farm, Clonbinane … cheers – Graham & Diana