Hello dear rose friends on this, the last day of summer which heralds perhaps, a respite for our gardens with maybe some rain ???
---
GRA'S GARBLE …
We've already had some cool mornings but gosh, the sun has a punch in it while we're watering the pots in the nursery from early morning. The cool nights will increase the incidence of fungal disease so, despite the daytime heat, it's time to ramp up and start the organic rose management spray program to protect foliage and keep it disease free so that we all enjoy massive flowering through autumn and right up to the first winter frosts.
TO 10 LITRES OF WATER ADD:
¼ CUP ECO ROSE (dilute first with strong gush of water!)
Small scoop ECO-SEAWEED (or other seaweed product – follow instructions)
¼ CUP ECO-OIL (add last then fill container with full water pressure to mix all)
Often, I mix these three products in a watering can and pour solution over roses which appear to need a boost or show early signs of disease – obviously, using a watering can is great if you're 'time-poor' but it means you'll use more product so this method is not as economical.
Most important that you apply this organic rose management program NOW!
Q:  What did one lab rat say to the other?  A: I've got my scientist so well trained that every time I push the buzzer, he brings me a snack!"
IS IT UNDERSTOCK ??? Very interestingly, we get many queries just like this:
"I have several standard Icebergs, one died 2 years ago and I left the roots in the pot, the spring before last up came some shoots and then quite a few more but it did not flower despite several prunings. This spring, after the winter prune, the shoots came alive again and in mid spring we had several large crimson/scarlet roses from what used to be 'deceased' iceberg. After the mid spring bloom no more flowers despite several prunings of the long shoots. Question – how come the Iceberg is now producing once a year crimson/scarlet roses ? Question – what can I do, if anything, to get more blooms throughout spring and summer? I live in Cronulla, NSW, the roses get full sun and get watered every second day."
My response: "Hello … what you're growing now is UNDERSTOCK … actually, R. DR.HUEY which is commonly used as understock for roses along the eastern seaboard of Australia – where most of our Australian commercial rose growers are!  I usually recommend that customers remove the understock from their gardens – it only flowers once in the season and is rampant and likely to take over large areas of your garden – if birds eat and spread the seeds, it's almost considered a 'noxious week'… get rid of the plant and definitely don't
waste precious drinking water to keep it growing!!!  Cheers – Gra"
… another email with slightly different issues relevant to ROSE UNDERSTOCK …
"Hi Diana & Graham, Firstly thank you for the emails I always look forward to receiving them. So my first question is: I pulled some suckers off some of my roses and found one had some roots attached to it so I planted it. Will this grow into a viable rose and produce flowers, or should I just get rid of it?"
MY Response: "That sucker you pulled off … throw it away!  You'll possibly get flowers every spring but they're not worth having – believe me!  Great for you if you want to propagate roses in the future – very llllooooooong future!  You need acres of it to produce enough canes for rose production."
"I've been given a use by date for our current home as we'll be building and moving to Torquay, I have a sentimental attachment to a couple of my roses and would dearly love to take them or take cuttings from them, what would you suggest the best and easiest way to go about this, would cuttings be better and if so how? or moving the roses (one is quite large).  I could hunt out the name tags from each rose if that would help. Kindest Regards – Tracey"
"Take the names of those you love most and you'll almost surely be able to purchase them when the time comes or there might be a really great, more modern variety available with all the same qualities but a more healthy rose perhaps?
Consider that the current roses will add value to the home when you sell it … doesn't matter that the new owners might destroy the garden – they'll offer you a good price for the way the place looks when they buy it! Hope all goes well for you in the future … best wishes …""
S ALL MULCH GOOD MULCH? This email will give you food-for-thought when you next consider which mulch is best in your garden … "Your newsletters have so much info and I look forward to them each week. Re mulch: – I have a very large LILLYPILLY tree in my garden which was cut back last year.  The arborists mulched the cuttings and I spread the mulch around the garden and thought I was doing a good thing.  But then I started to see LILLYPILLY seedlings cropping up everywhere and spent a lot of time removing them; I still see the occasional seedling peeping through ☹"
Q:  What animals need oiling?  A: Mice, because they squeak!
---
CELEBRATING AUTUMN – BUY ANY 4 ROSES, GET ONE FREE – INCLUDES ONLINE SALES (just write the name of your preferred FREE ROSE in the COMMENTS)
FOUR magnificent roses you might consider planting this autumn:
David Austin Modern Shrub Rose with large dark crimson heavily petalled and very fragrant blooms continually.  Very suited to pot-planting for a patio.  Ideal as a hedge-row.
Large dark crimson blooms
Extremely healthy rounded shrub
Intense old rose fragrance
Suitable for use in flower arrangements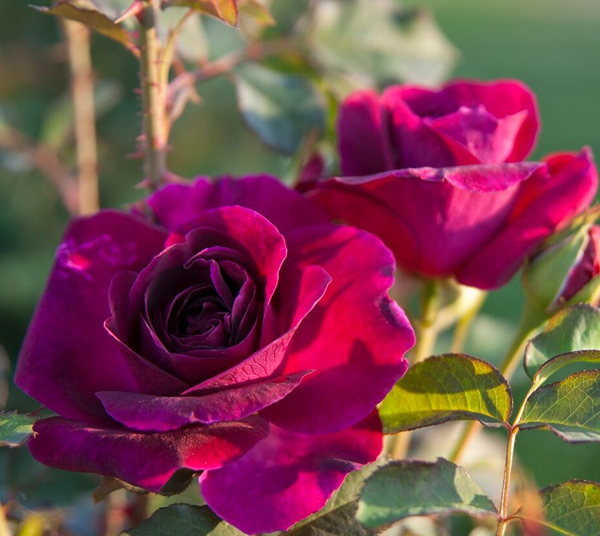 ---
Delbard Couture Collection Shrub Rose which produces one of the most durable flowers of any rose we stock.
Exquisite dark red almost black flowers
Exceedingly healthy and very free flowering
Ideal as rose hedge or border
Most endurable flowers which last more than 10 days on the bush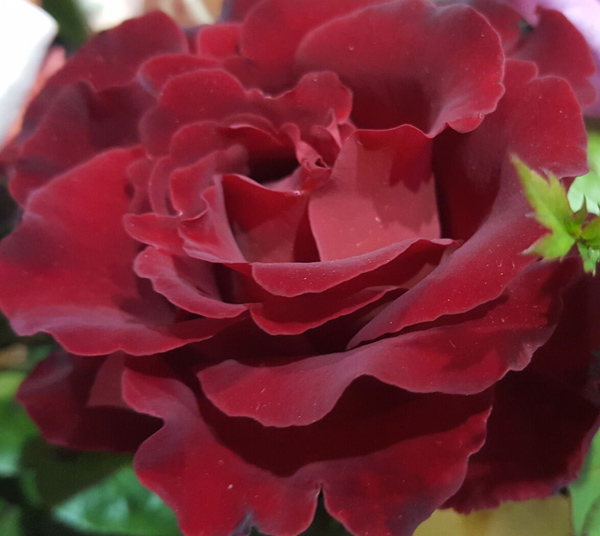 ---
FRIESIA
A refreshingly bright canary yellow flowered Floribunda rose.  This rose will definitely lift your spirits and so will it's fragrance.  Nice dark green foliage, free blooming, and compact growth.  If you want a yellow this is one we highly recommended.
Bright canary yellow blooms
Beautiful fragrance
Free blooming
Nice dark green foliage and compact growth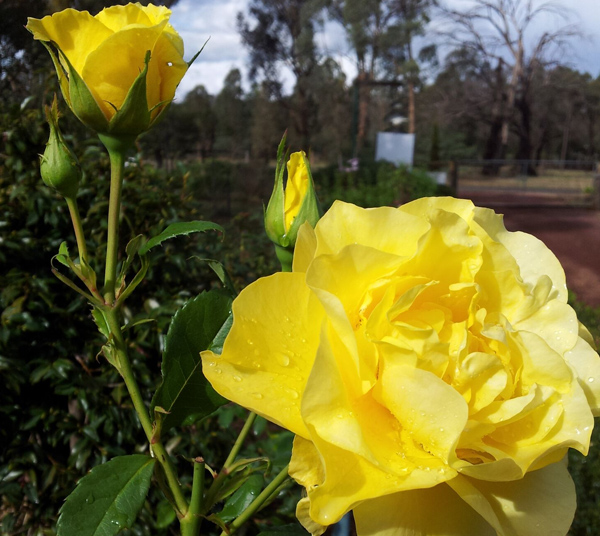 ---
A wonderful Hybrid Tea rose – lovely healthy, spreading bush produces huge blooms of lavender/pink flowers continually throughout the season. The blooms have a most heavenly fragrance – hence the name!  Highly recommended rose for cut flowers too!
Hybrid Tea rose
Large, spreading bush
Huge blooms of lavender/pink
Great cut flower with amazing fragrance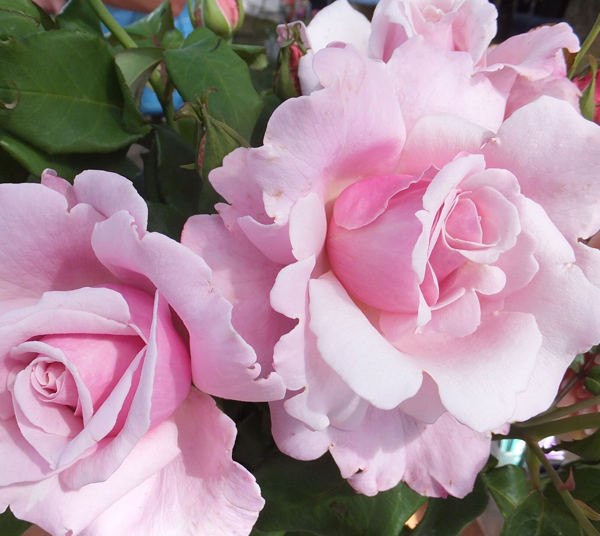 ---
Hope you enjoy the cooler nights for sleeping and let's hope we get rain for our gardens so that our roses put on their most spectacular autumn display in coming months … cheers from the team at Silkies Rose Farm, Clonbinane – do come for a visit soon!