Hello dear rose friends as we stock up the woodshed and stoke the wood fire in readiness for a cold autumn! The magnificent dahlia in the front garden which flowers from Christmas time has succumbed after the first frost a few weeks ago – yes, it's very cold here at Clonbinane and this morning was our third frost already!
---
THE JOYS OF AUTUMN IN A ROSE GARDEN
Crisp, cool mornings (in the dark!) and balmy evenings until the end of daylight savings; lovely sunny days – ideal gardening weather and the roses agree by putting on their most spectacular display with intense colour and plenty of flowers.
We have had almost no rain here since Christmas so we are deep-soaking the rose gardens to ensure we retain lots of flowers and healthy foliage right into the first weeks of winter. Lots of our spectacular ornamental trees have been losing leaves for a while now so we don't expect they'll put on their usual show of glorious autumn colour – even our large eucalyptus trees have been shedding lots of leaves and branches!
All signs of an incredibly dry summer and we look forward to a good dumping of rain soon.
Keep dead-heading the roses continually to encourage lots more flowers;
Fertilize all gardens then give them a deep soak;
Remove any old roses NOW – prepare soil for replanting this winter;
Visit rose gardens and take lots of pictures (including labels for future id);
Gather rose catalogues and create a wish-list at www.rosesalesonline.com.au
Pick buckets of flowers for indoors;
Revel in the glory of your rose garden this autumn!
Q. Why did everyone jump for Joy? A. Because she was stuck to the ceiling!
---
THERE'S NO BETTER TIME…
THERE'S NO BETTER TIME than right now to plant some climbing roses – if you get climbing roses in the ground now while the soil is still warm, they'll get well established before winter and this spring, will delight you with their first spectacular flowering in your garden!
I was trimming the climbers this past weekend because they kept clawing me when I was watering – here are a couple which are absolutely spectacular right now:
---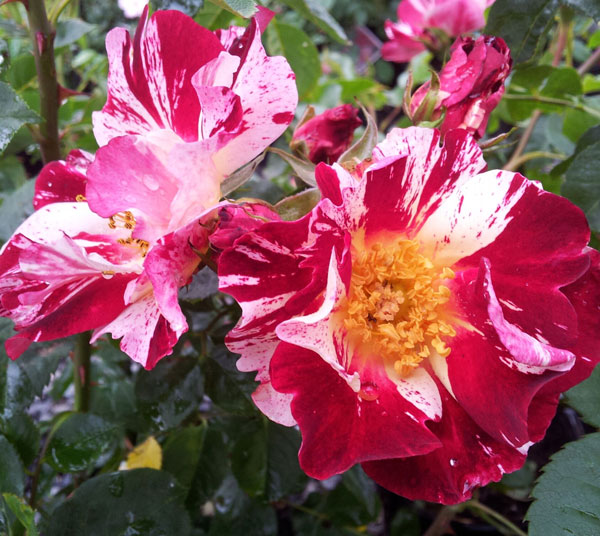 ---
Soaring Spirits is such a magnificently 'different' rose … single blooms which blend yellow and pink to perfection then fade to creamy white and pink so stunningly!  A robust growing climbing rose with healthy foliage to create a sense of 'ooooh, aaaah' when planted on a post of a pergola, splayed along the fence or maybe positioned in an obelisk … beautiful!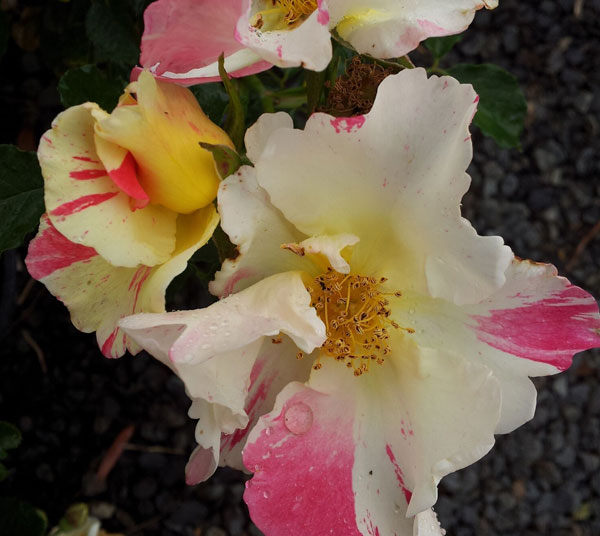 ---
A sensational climbing rose which is never without masses of medium pink blooms over a very extensive flowering season.  There are lots of thorns but the canes are easily managed whether attached to an arch or against a wall this climber will be a wonderful addition to your garden for spectacular display.  Very highly recommended climbing rose!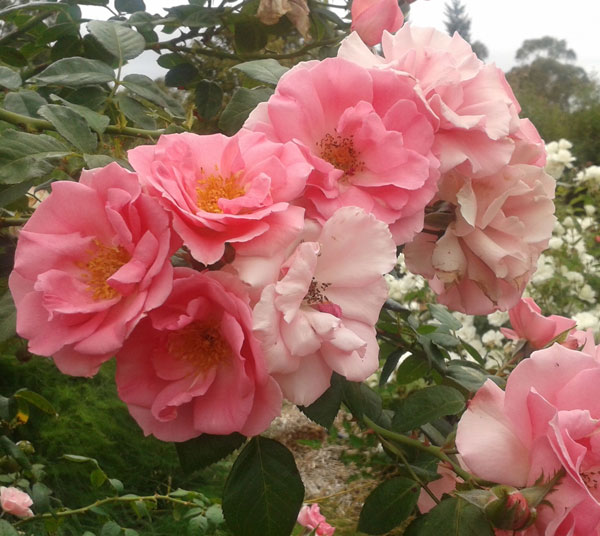 ---
ART & ROSES TOURS 2019
WEEKEND OF APRIL 13 TH & 14 TH
GROUP BOOKINGS OF 8 OR MORE WILL ENJOY FREE ENTRY TO MOST ACTIVITIES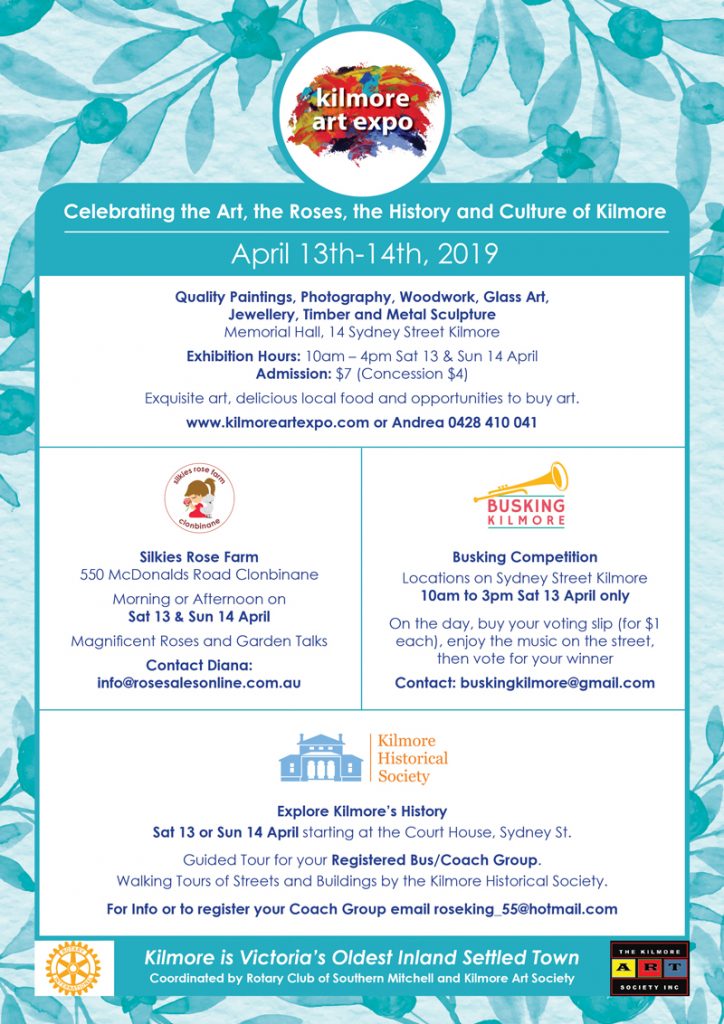 PLEASE CONTACT DIANA: 03 5787 1123 OR 0418 33 77 65 FOR MORE INFORMATION ABOUT ATTENDING THIS GREAT WEEKEND IN OUR REGION.
---
See you soon at Clonbinane … Diana, Graham, Mooi & the team.