ROSE RAMBLER 09.11.2017 …
Hello, dear rose friends as another Melbourne Cup came and went – today ladies are out celebrating OAKS DAY – we donated table centres for YEA OAKS DAY where in past years our roses have raised significant funds for the Ambulance Service at Yea and district – hope the girls have a great day out!
I think they might well change the name of MELBOURNE CUP to MELBOURNE FESTIVAL OF HORSES AND ROSES – weren't the roses spectacular in television coverage?
This weekend we're exhibiting at VICTORIA STATE ROSE GARDEN SHOW at WERRIBEE – home also of the WERRIBEE PARK NATIONAL EQUESTRIAN CENTRE, WERRIBEE MANSION and WERRIBEE OPEN RANGE ZOO – a magnificent destination in Victoria and I urge you all to come and visit WERRIBEE this weekend – it is SPECTACULAR IN THE EXTREME
GRA'S GARBLE …
Let me start with a joke … Q. Which of the witch's friends was good at baseball?  A. The bat! 
Your roses are growing rampantly now – most will be flowering so it's important to fertilize with the best quality fertilizer you can buy – go to your local supplier and be advised by what is locally available.  If you're driving by Clonbinane, call in and collect our COF (complete organic fertilizer) which you can liberally apply to ALL THE PLANTS IN YOUR GARDEN – except Australian Natives!
Healthy, well-fed plants usually indicate healthy foliage – sometimes things go wrong and here is what the LEAVES ON ROSES are indicating …
MOSAIC VIRUS
Really nothing you need to worry about since it is evident when roses are growing voraciously and then it seems to be less indicated … we don't recommend propagating roses with MOSAIC VIRUS and there is no spray or cure to eradicate it!
BLACK SPOT
A sign of old foliage on lower leaves/stress from lack of fertilizer on newer foliage / moist foliage overnight – generally can be corrected by trimming, fertilizing, deep-soaking watering to promote new foliage and flowering!  Remember that you lose hair and skin EVERY DAY … BLACK SPOT is the mechanism for a rose to lose old foliage – it is up to you to prune!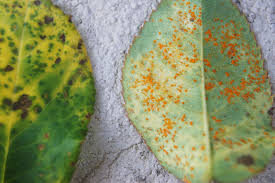 RUST
Is usually evident on the underside of rose foliage where there is almost no ventilation and very damp conditions prevail.  Rose plants are very debilitated by this fungus and it can spread rampantly.
POWDERY MILDEW
Will occur where there is little or no sunshine, very little air-flow or foliage is constantly wet.  Disease can be eliminated by increasing ventilation – removing ground-covering perennials/annuals/other plants clear to 20cms from the base of roses, shifting shaded roses into a sunny location and NEVER WATERING after 3 pm so that foliage is not wet during the night!
I urge you to use our recommended preventative ORGANIC ROSE MANAGEMENT SPRAY PROGRAM at least monthly to reduce any incidence of disease on your rose plants …
To 10 litres of water add:
You can also add liquid fertilizer to this mix!  Vigorously shake the solution, add water to 10 litres volume and shake again.  Spray over foliage and underside where possible – avoid spraying open flowers if you can as the droplets will be evident on rose petals!
NEVER SPRAY WHEN TEMPERATURE IS EXPECTED TO EXCEED 28 DEGREES AND SPRAYING IN THE MORNING IS PREFERRED AS THE STOMATA (PORES) OF THE PLANT ARE OPEN!
It is extremely important to offer roses conditions which reduce plant stress and ensure they flourish which avoids the need to use the ORGANIC ROSE MANAGEMENT SPRAY too frequently:
Water at least 20 litres per plant ONCE EVERY WEEK if there is no rain
Fertilize regularly – every 8-12 weeks sprinkled lightly over entire root-zone
Mulch garden beds to regulate soil temperature and retain moisture levels
Apply ECO-SEAWEED solution whenever you feel inclined!
HEALTHY PLANTS = HAPPY PLANTS HAPPY PLANTS = HAPPY PEOPLE = HAPPINESS!
Q. Which musical instrument do skeletons play?  A. Trom-Bone … ha, ha!
CHICKEN, DUCKLINGS and FLEDGLINGS …
Yes, I've got LANGSHAN chickens with their clucky hen mothers, lots of ducklings are venturing from our swale to the neighbour's dam and although the Magpie bub is well and truly faring for itself, we've got pardalotes, wrens and finches all showing off with their fledgelings.
This is a spring of unprecedented joy with an abundance of production – last Tuesday was our last minus 1 frost and we hope it's the last for this year as we want to plant veggies where the roses were heeled-in this past winter … such an ideal location because excess water from the nursery runs directly to this area.  Hope you're planting veggies too!
Here are a few pics of spectacular roses in the nursery NOW …
THE OPPORTUNITY ROSE is a profuse bloomer, the habit is compact and a little over knee high. The medium sized buds have attractive form, the rich variable copper shades are not prone to premature fading. It has very high resistance to blackspot when compared to neighbouring varieties and a distinct light fragrance.
THE GOLDEN CHILD magnificent Modern Shrub Rose produces masses of bright canary yellow clusters of fragrant blooms on a beautifully healthy shrub with glossy mid-green foliage and magnificent crimson new foliage – highly recommended rose!
MUNSTEAD WOOD –  David Austin Modern Shrub Rose with large dark crimson heavily petalled and very fragrant blooms continually.  Very suited to pot-planting for a patio.  Ideal as a hedge-row.
Revel in the beauty of your spring garden and we'll see you at Werribee this weekend or soon at Clonbinane …
Cheers from us all here at SILKIES ROSE FARM, Clonbinane
Within 500 metres of the CLONBINANE INTERCHANGE on the Hume Freeway, 60 kms north of Melbourne Open every Friday, Saturday, Sunday and Monday – 9am – 4pm Phone 03 5787 1123