ROSE RAMBLER 16.11.2017 …
Hello, dear rose friends … phew … another busy week is done and dusted with lots of happy customers enjoying their roses this magnificent season – it was such a joy to be displaying our potted roses surrounded by glorious rose gardens at Werribee State Rose Garden this past weekend.
Tova and I loved all the moments we shared with those who came to our site – it was delightful to have our very own GARDENETTE, Chloe, sharing her gardening knowledge with customers who are interested in organic garden management.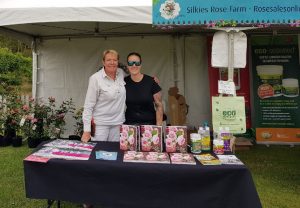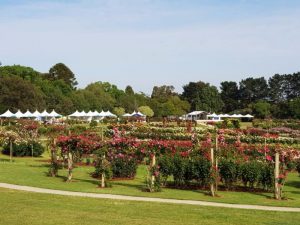 Q. What do skeletons order at restaurants?  A. Spare ribs … yuk!
Here are a few pics of roses our customers have sent this past week … thank you to you all for sharing!We just know you're having a most sensational flowering season – enjoy the happiness!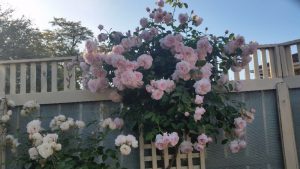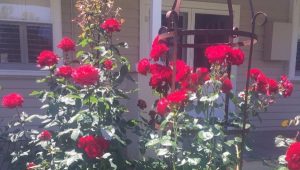 Susie's DUBLIN BAY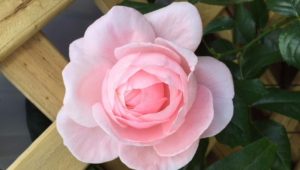 Haejin's NAHEMA
GRA'S GARBLE …
I think it's important to repeat how you can prevent the risk of your roses incurring the most common fungal disease infection:
PLANT ROSES IN FULL SUN – no less than 6 hours of direct sunlight per day
PLANT ROSES IN WELL VENTILATED SPACE – wind will dry wet foliage
WATER APPROPRIATELY – never water over foliage from 3 pm onwards
CHECK SOIL MOISTURE – roses hate wet feet constantly but love deep-soaking
SELECT DISEASE-RESISTANT VARIETIES – yes, some roses are definitely healthier!
Now is a great time to research varieties of roses you want to plant in your garden – don't just look at pretty flowers, look at the WHOLE BUSH.  Visit the State Rose Garden in your state, take pictures and notes.
When you photograph a rose, photograph the plant label so you remember the name of each rose!
Hi, Diana and Graham, Just to say thank you and how much we enjoyed our morning tour of your wonderful rose farm and rose nursery.  Everything was so healthy and glossy leaved and so much to learn as we walked with you.  Again many thanks, Whittlesea Garden Club.