ROSE RAMBLER 10th MAY, 2018 … 
Hello dear rose friends.  And … drumroll … the WINNER IS: LISA MUNNS from LAVINGTON IN NSW
Sincere thanks to you all for your AMAZING support of this competition by emailing your answer and details accordingly … most of you got it right!  Steph takes the prize for the most creative response:
Q. WHAT'S WORSE THAN FINDING A WORM IN YOUR APPLE?
A. FINDING HALF A WORM IN YOUR APPLE! Why?  — because: (1) you have ingested some unexpected extra protein; and (2) you've lost the opportunity to put the apple and a lovely wriggling lively worm in your compost where the apple will break down, the worm will thrive and create lovely compost to PUT ON YOUR ROSES! 🙂  Kind regards …Stefanie 
Along with this beautifully creative contribution from Sonia's little girl:  "Finding half a worm or a family of baby spiders, earwigs or a human eyeball … ewhh – yuk"
We were overwhelmed by the incredible number of email responses and we're so pleased to be able to continue presenting this weekly Rose Rambler for your learning and gardening pleasure knowing so many of you actually continue to read it!
The reason we did such a low-key Rose Rambler last week was that I had had a rather serious car accident on MY dirt road into Kilmore and wrote-off Graham's vehicle!  I am 100% OK and a walking – talking miracle really!  There was a lot to organise and the accident was a signal for me to slow down and take time out to 'smell the roses'!
Graham and I will be taking time out in these next few weeks before the busy bare-rooted season starts.   Ben and Tova are more than capable of holding the fort so continue to place your winter orders for bare-rooted roses!
---
NOW IS THE TIME TO ORDER YOUR ROSES FOR WINTER …
Here are a few highly recommended varieties which you MUST consider: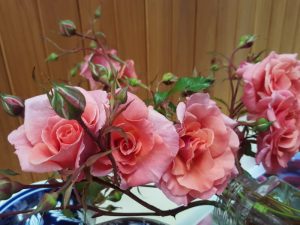 ALI BABA – is one of the most exciting new climbing roses because not only does it flower very, very continually but it holds a lot of healthy foliage throughout winter – a really important aspect of covering an area which would enjoy winter foliage! A very highly recommended rose!!!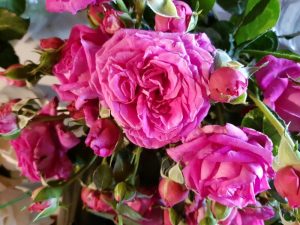 DREAM CHASER – was one of the outstanding roses in the field this past summer – it's got everything you want in a rose … highly fragrant, very easy care, extremely high-health and a lovely rounded shrub which just 'fits in' … you MUST have this beauty in your garden!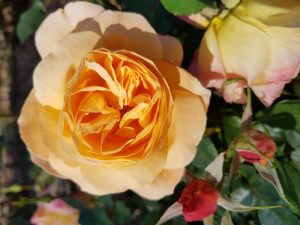 MY YELLOW – is absolutely stunning and again, extremely high-health, fragrant and it just doesn't seem to EVER BE WITHOUT FLOWERS … we've been trialling this beauty in our gardens here at Clonbinane and it is EVERYTHING we never expected to enjoy in a yellow rose – an Australian-bred beauty by Bruce Brundrett and if you love YELLOW roses, then this is the rose you MUST grow – a real beauty!
If you don't like online ordering then call us at the Rose Farm every Friday, Saturday, Sunday and Monday when we are open – otherwise, order at www.rosesalesonline.com.auwhere you can see a plethora of beautiful photos of the roses available for ordering NOW.
---
GRA'S GARBLE …
Since you obviously all love a good joke, here's my contribution for this week:
Q. What do you get if you cross a worm with a baby goat?  A. A dirty kid!  
Many of you will still have beautiful blooms for weeks to come in your rose garden so be sure to apply the organic management spray program regularly as it will retain healthy foliage for longer as the nights get cooler/damper – to 10 litres of water add:
1/4 cup ECO-ROSE / FUNGICIDE (these products are one and the SAME!!!  Eco-Rose has a red coloured label and Eco-Fungicide has an aqua coloured label)
1 small scoop ECO-SEAWEED (the 600g pack is still on special because we forgot to change the price several weeks ago – you'll make 120 x 9 litre watering cans of seaweed solution from each 600g pack!  Real value at full price of $32.50 but currently just $25.00
Thoroughly mix all the products into a spray unit or watering can and cover rose foliage fortnightly during this cool/damp weather to keep foliage healthy right up to winter when all rose leaves will start to show signs of black-spot and yellowing.
Remember that this decline in healthy rose foliage is a NATURAL MECHANISM for roses to LOSE their FOLIAGE and go into winter dormancy.  When they've completely defoliated it will be time to prune – more on that topic later.
Here's an email exchange with Jodie in Queensland:  "Hi Gra … my roses are all flowering and looking great – the only challenge I have is black spot.  I have started to spray them with the special eco powder for black spot that I purchased from you, but I suppose it will take a number of more sprays before it starts to work?"
My response:  The organic spray management program works very efficiently, effectively and economically when applied regularly and in line with prevalent weather conditions … so rather than wait for damp weather to affect rose foliage by staying damp overnight and increasing the possibility of black spot or mildew affecting the leaves, SPRAY BEFORE such weather is expected – if and when possible!
Just another thought … do you have the ECO OIL as well???  Always add that to the spray because it also acts as a 'sticker' … makes the fungicide and seaweed solution 'stick' to the foliage because it is oil based!  If you don't have ECO OIL you should at least add a dash of detergent – the soap will make the spray solution stick to the rose foliage … 
Since I started with a joke, I'll end with one also:
Q. Why did the singer climb a ladder?  A. To reach the high notes!   … cheers
---
TESTIMONIALS …
Thank you for continuing to send emails commending the quality of our roses, our helpful assistance with all manner of rose issues and your general approval of how we conduct our business.
In order to voice your opinion more widely, can you please submit your testimonial on here, so that potential customers will confidently allow us at Silkies Rose Farm and www.rosesalesonline.com.au to encourage them the pleasure of growing beautiful roses in their gardens!
Be sure to 'smell the roses' while they are still flowering in your garden and a very HAPPY MOTHER'S DAY to all the wonderful Mum's / Grandmother's and Women in general who make this country a loving place for all of us!
Graham, Diana, Mooi and the crew of helpers:  Ben, Tova and Leigh.