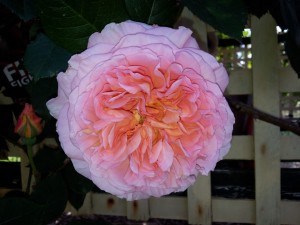 Introduced by David Austin Roses in 2000, this magnificent rose always delights because it is always different and whenever you visit with your Abraham Darby rose, you never know what to expect. This rose will surprise you each time – sometimes deep pinks swirled with apricot, buff-yellow and cream and other times much softer pinks and cream with apricot deep in the centre.
The loveliest attribute once you have enjoyed the surprise of the various colours in each flower, is of course, the magnificent fragrance … strong and fruity and always there! The blowsy petals just urge you to take a sniff and you will never, ever be disappointed by the perfume of.
Abraham Darby can be used as a climbing rose and is wonderful espaliered to a screen wall or fence – if planting as a free-standing shrub, three roses should be planted .75cms apart and they will gracefully support each other and hold the flowers up.
Because the flowers are so large and filled with petals, this flower is not really suited to the open vase. However, when floated in a bowl, Abraham Darby roses will last many days and then literally, just fall apart. The petals when dried would make a magnificent addition to a pot-pourri and provided you don't spray chemicals on your roses, one flower from this rose would give a lovely handful of petals to add to your recipe!
Huge flowers with surprise of blended colours
Magnificent fragrance
Ideal to float or use for 'Pearly Petals'
Great climbing rose for fence or espalier
CULTURAL NOTES:
The generally sunny, dry and hot conditions of the Australian garden are particularly well suited to planting roses and roses flourish in our gardens when you take measures to provide the following:
WATER – Roses are very deep rooted plants and require one good, deep soaking at least every 10 days in hot and dry conditions.
FEED – Because roses flower throughout all but the Winter season, they should be regularly fertilized with quality (preferably organic) fertilizer which contains a balance of major nutrients (NPK) and trace elements. The fertilizer should be applied at least once a month – small amount often – with fortnightly applications of liquid seaweed over the foliage.
PRUNE – During Winter, 70% of the rose plant should be pruned and all old wood removed back to the crown and the bush pruned to shape.
During the flowering seasons, 25% of all flowering stems should be cut back after flowering to encourage strong re-growth.
MULCH – Particular attention to application of lucerne or pea straw directly around the root-zone of each rose will enhance the overall health of the rose and then the whole bed should be mulched to 75mm with any other mulch medium available.