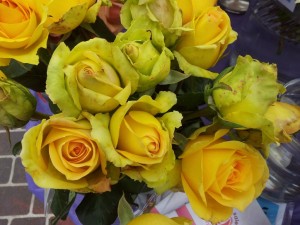 Bred by an amateur breeder, Frank Strickland, California, USA, 1995 by 'Brandy' x Gold Medal' this stunning rose is a must-have if you like to exhibit at rose shows.
Unfortunately, St. Patrick is not suitable to grow in our region because it flourishes where it gets really, really hot or where it is planted against a hot north/western wall to protect it from any cold at all. (The summer of 2013 would have been an exception in Victoria but who could have predicted that?).
The fully double blooms of St. Patrick are one of the longest-lasting cut flower garden roses I have ever experienced. It has high pointed centres and the outer green petals are very appealing and different. The foliage is matte mid-green and plentiful and when grown in the warmer climates, it is abundantly free-flowering and a joy to all who can grow it.
Unusual green buds
Long lasting cut flower
Suitable for exhibiting at Rose Shows
Plant only in hot climates
CULTURAL NOTES:
The generally sunny, dry and hot conditions of the Australian garden are particularly well suited to planting roses and roses flourish in our gardens when you take measures to provide the following:
WATER – Roses are very deep rooted plants and require one good, deep soaking at least every 10 days in hot and dry conditions.
FEED – Because roses flower throughout all but the Winter season, they should be regularly fertilized with quality (preferably organic) fertilizer which contains a balance of major nutrients (NPK) and trace elements. The fertilizer should be applied at least once a month – small amount often – with fortnightly applications of liquid seaweed over the foliage.
PRUNE – During Winter, 70% of the rose plant should be pruned and all old wood removed back to the crown and the bush pruned to shape.
During the flowering seasons, 25% of all flowering stems should be cut back after flowering to encourage strong re-growth.
MULCH – Particular attention to application of lucerne or pea straw directly around the root-zone of each rose will enhance the overall health of the rose and then the whole bed should be mulched to 75mm with any other mulch medium available.