ROSE RAMBLER 28.8.2014
Hello dear rose friends … not just good news but GREAT NEWS … after months of writing, there is a beautiful book being released in the first week of September; ALL ABOUT ROSES is a very practical guide to growing and loving roses which I wrote from Christmas, 2013 to deadline: 10th April, 2014 – it was an amazing journey and we are thrilled with the result!
I took lots of the photos and my niece, Katrina, a professional photographer assisted me during the last weeks of autumn compiling magnificent landscape photos of the gardens here at Silkies Rose Farm, Clonbinane. Here's a sneak preview of the cover: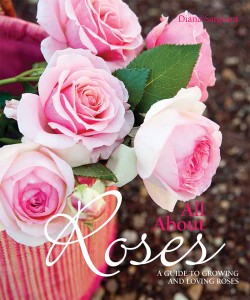 In my Mother's words: "ALL ABOUT ROSES is a beautiful coffee table book with magnificent pictures of roses as well as being a very practical guide for gardeners wishing to grow healthy roses organically".
As a special treat, I'm offering to post you
a signed copy of ALL ABOUT ROSES by simply clicking here!
Copies of ALL ABOUT ROSES will be available in bookstores around Australia as well as in UK and USA and yes, of course, I will have copies here at the Rose Farm too!
GRA'S GARBLE…
Winter ends with sunny days and extremely frosty nights – all the roses are pruned so now let's take time to consider the soil which produces our beautiful roses.
The world under our feet is critical to the success of our roses and all plants! Without a balanced eco-system within the soil, roses cannot get the nutrients they need regardless of how much fertilizer is applied.
Soil microbes, worms, manures, mulch all play an important part in the BALANCE OF NATURE and here are a few things you need to do NOW to enhance the life-giving force of the soil your plants depend on …
Sprinkle a light application of organic fertilizer over the entire soil surface of the rose garden;
If you took my earlier advice and have a drum of 'brew' ready to be used, (manures/grasses and water fermenting for four weeks) add a bit of seaweed to the brew and pour it all over the soil to build up microbes;
Spread a light layer of mulch over the soil to retain even soil temperature – the mulch will be more thickly placed later on before the extreme heat of summer.
Found a couple of beaut jokes:
Q. Why is it not safe to sleep on a train? A. Because they run over sleepers.
And, Q. What did the drone say to the Queen Bee? A. Swarm in here isn't it.
Have a beaut week in your garden and if you're not sure about the soil in your garden and how to improve it, bring a shovel full of soil in a bag and we'll have a chat about the various means to enhance the fertility and microbial content of your soil … see you soon – Gra
ROSES STILL AVAILABLE …
Yes, the roses can still be posted and yes, they are very heavily cut back. We had a parcel go astray in Queensland – it left the nursery on 4th August … this is the last email from that customer – take particular notice of the date she got her roses – yes, 22nd August – nearly three weeks in transit. I was always confident the roses would arrive in good condition – they're perfectly fine after planting and seaweed applications.
Hi Diana,
I received the roses today! Don't know why the post office would keep it such long. Some yellow shoots sprout I guess its due to prolonged transit, otherwise they are beautiful. Thanks for your beautiful roses and your kind responses to my enquiries! Cheers!
Wai, Date: Fri, 22 Aug 2014 06:24:20 +0800
If you need a rose posted to the special man in your life for FATHER'S DAY, 7th SEPTEMBER, please be in touch within the next few days – Australia Post will struggle to keep up I think.
Enjoy this magnificent weather and take quiet moments to listen the birds as they ramp it up to herald spring …
~ Diana, Graham & Mooi at Clonbinane