Hello dear rose friends as we offer a pinch and a punch for a whole new month!  Oh, and isn't the season spectacular?  Huge rose blooms, loads of colour and gloriously healthy lush foliage … it doesn't get any better!
---
GRA'S GARBLE …
Here is a series of emails which we can all learn from:  don't forget to organise a visit to Silkies Rose Farm this Saturday for my composting demo!
Q. What do you get if you cross a monster with a dozen eggs?  
A. A very hairy omelette – YUK!
"Hi Diana, Can you please help identify this bug which is on my beautiful Gold Bunny.  I have a couple of lady birds as well.  Have used Eco spray.   Regards – Jan"
We forwarded Jan's pic to Steve at OCP and how good is this response:
Morning Di … Good news. These are the larvae of ladybeetles! Nothing to worry about 🙂  Steve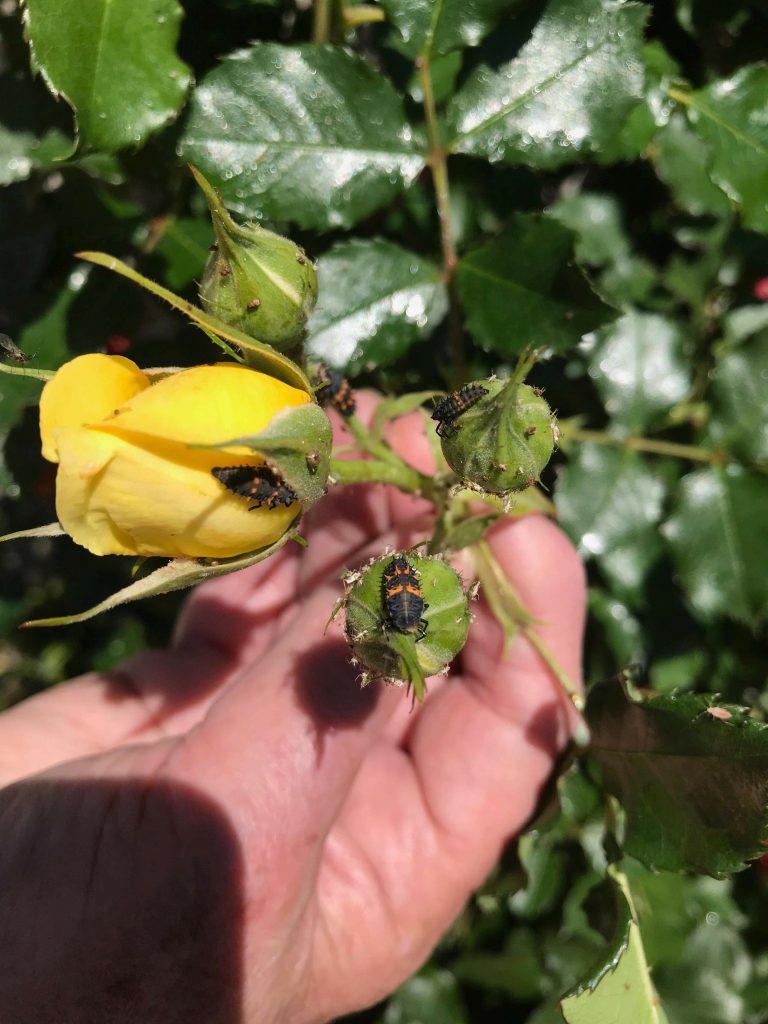 ---
POSSUMS …
We thought there was a possible solution with Citronella spray, Monica in suburban Melbourne ecstatically emailed to say her CREPUSCULE climber had shoots after just one application.  Within two days, the possums decided she was trying to kid them so they ate all the new foliage!
After a to-and-fro conversation, Monica sent this pic and email:
One solution might be to invite our indigenous friends for a hunting party. It takes a few suburban back yards worth of possums to make one traditional cloak!
POSSUM SOLUTION
---
ROSE CARE…
PLANT IDENTIFICATION
Dear Diana and Graham.  A few weeks ago you were discussing ideas for long lasting and financially viable rose labels. One lady had a great idea using animal ear labels. I didn't have access to these, so attached are pictures of some metal stamps I bought for $45 (a bit of an outlay to start with).   I used these to stamp into metal flashing. (Again, if you have to buy it, that's a bit of an outlay of something like $20-$30) but I'm set for a life-long of labelling my garden plants with no more expense – forever!   Hope this might be of some help to others.  Kathleen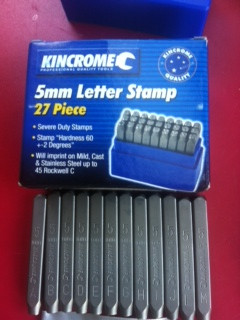 STAMPS FOR LABELS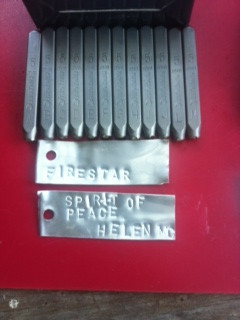 STAMPS FOR PLANT IDENTIFICATION
---
EPSOM SALTS GARDENING
Hello Graham and Diana, A couple of years ago I let you know that I was going to try Epsom salts on my LA JAGO after reading a recommendation for it in one of your newsletters, as it had very blotchy, yellowish foliage.  You said LA JAGO had yellowish leaves normally and you asked me to let you know how the Epsom salts went.  Well I think it has made a big difference. Here's a photo I took yesterday morning.
I didn't get around to pruning all of my roses this year, so I will probably be dealing with a bit of black spot due to how bushy they are, but I'll give them trims over the summer if they get particularly bad, otherwise I'll just let them do their own thing this year.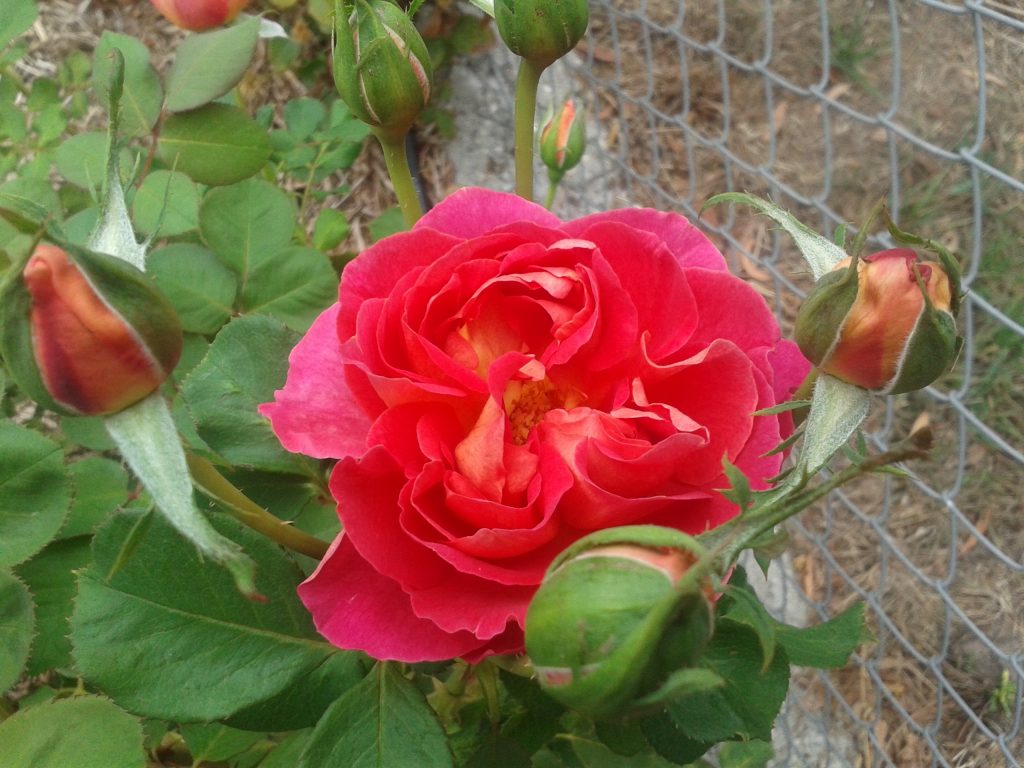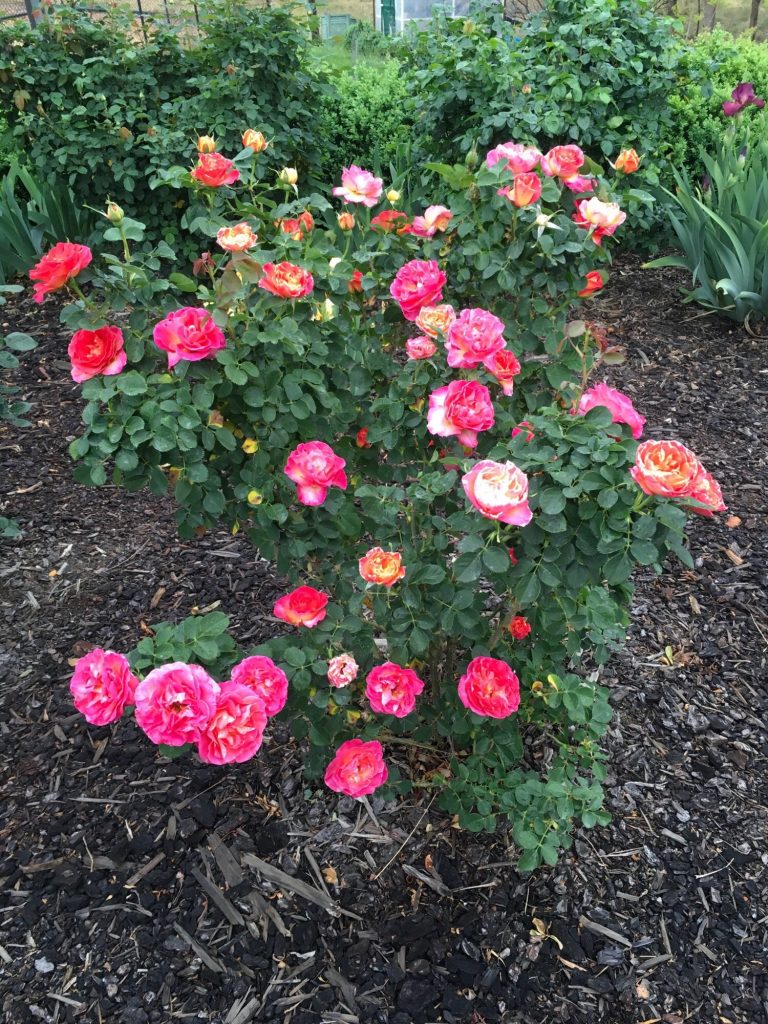 So, why did EPSOM SALTS make a difference to this rose?  Here is some information I extracted from the internet which you can also follow through with if you're interested:
Epsom Salt Uses: GARDENING 
Fertilize your houseplants: Most plants need nutrients like magnesium and sulfur to stay in good health, and Epsom salt makes the primary nutrients in most plant foods (nitrogen, phosphorus, potassium) more effective. Sprinkle Epsom salt once weekly to help nourish your houseplants, flowers, and vegetables.
Keep your lawn green: Magnesium sulfate crystals, when added to the soil, provide vital nutrients that help prevent yellowing leaves and the loss of green color (magnesium is an essential element in the chlorophyll molecule) in plants. Add 2 tablespoons of Epsom salt to a gallon of water and sprinkle on your lawn to keep the grass healthy and green.
Insecticide spray: Use Epsom salts on your lawn and in your garden to safely and naturally get rid of plant pests.
Read on for more information on gardening with Epsom salt.
Hi Graham, Just had to drop you a quick line just to say thank you for sharing your knowledge and passion. I always look forward to your emails and this one was definitely a juicy one, I learnt a lot!  Thanks again – Cheers, Shae
Closing with a joke:
Q.  What do you call a monster who eats his father's sister?  A.  An aunt-eater … 
The author of these jokes, Graham, says:  THE SKY IS BLUE, THE SUN IS YELLOW, THESE JOKES WERE MADE BY BRAINS OF JELLO!
So, please can you all rally and send Gra some new jokes for this Rose Rambler as I think he's running out of puff!  Diana
---
NATIONAL ROSE TRIAL GROUND AWARDS…
WINNER AT THE NATIONAL ROSE TRIAL GROUND AWARDS – BRUCE BRUNDRETTwith two varieties which are yet to be named.  They will be released in 2019-2020 so keep an eye on this Australian rose breeder who grows amazingly healthy roses which are extremely free flowering and disease tolerant!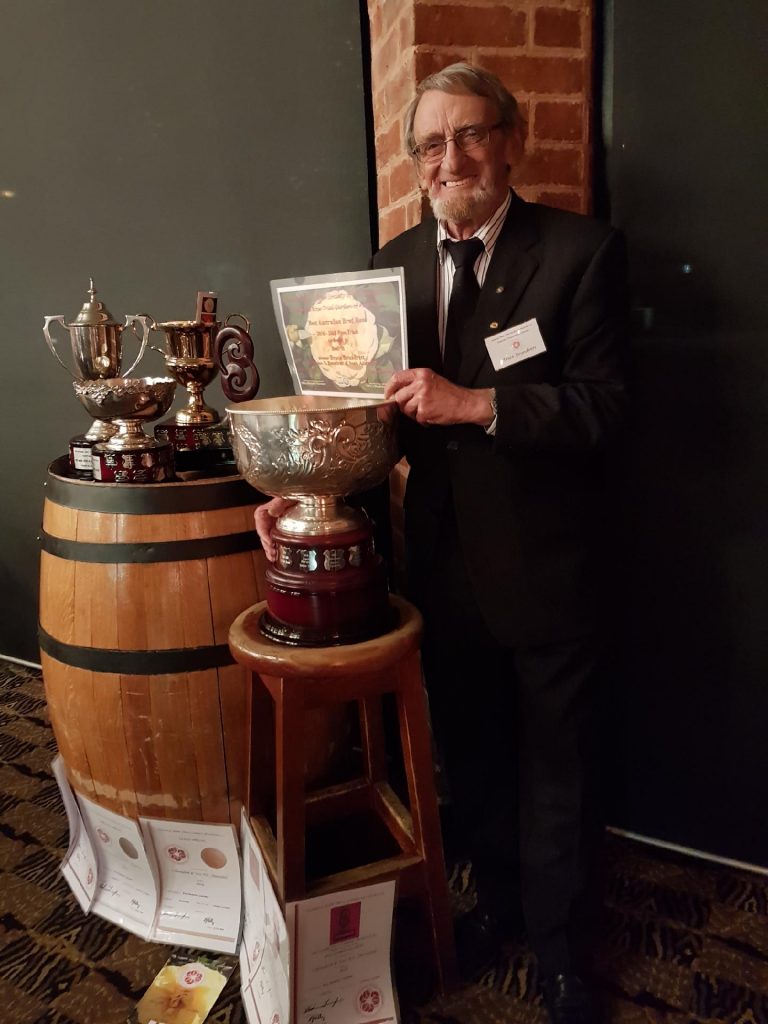 Hope you back a winner in the Melbourne Cup next Tuesday and if you're going to Oaks Day on Thursday, look out for Diana with her friends.
Enjoy all the glory this magnificent rose season is affording us … Graham, Diana, Ben, Tova and MOOI …