Hello dear rose friends  …   Oh, what an interesting week … the panic of acquiring the last bare-rooted roses of this season with roses being posted all about the place.  Naturally, they're all leafed up and some even have buds on – just remember to keep the liquid seaweed up to your roses – weekly for the next couple of weeks and then routine monthly maintenance thereafter!
Also, there have been panic calls about aphids!  Apparently the populations in some gardens are quite extensive.  Usually, the aphids are congregating and breeding rapidly in the less windy part of the garden … under the eaves, in the corner, around other large shrubs, etc.
The ladybirds will catch up although I haven't seen any here yet …?  All the little birds will be having a feast and they need the aphids as a food source while they are nurturing their young.  That doesn't resolve your problem … they're destroying your roses!  So apart from using the Eco-oil insecticide, you might add some Eco-Neem!
The insect eats the Eco-Neem sprayed plant material;  the insect then fails to moult (shed their skin) which severely disrupts growth, development and reproduction.  The insect also loses the desire to feed, resulting in starvation.  Yes, it works but it may take up to 10 days before you see a significant reduction in the population of aphids which now, because they are weak, become prey for other insects, birds and reptiles in the garden!
Meantime, removing heavily affected foliage by finger-pruning is very effective in reducing numbers of aphids thus interrupting their breeding cycle.
We urge you not to resort to systemic chemical use!!!  Also, don't use pyrethrum sprays as they will also kill all the other beneficial insects in the garden and so a very vicious cycle of chemical sprays will be required throughout the season.
Nature is a bit out of whack right now … please nurture the biodiversity in your space by letting things take their course and so what, if you don't get the most abundant show of roses in the coming weeks, the next round will be glorious!
If Nature ever needed you to be kind and patient, now is the moment!!!
SOMETHING WORTH SHARING …  This beautiful quote came to me from a friend and I would like to pass it on …
"Today may there be peace within. May you trust that you are exactly where you are meant to be.   May you not forget the infinite possibilities that are born of faith in yourself and others.   May you use the gifts that you have received and pass on the love that has been given to you.  May you be content with yourself just the way you are. Let this knowledge settle into your bones, and allow your soul the freedom to sing, dance, praise and love. It is there for each and every one of us."
GRAHAM'S TIPS …  If you're at all concerned about the fact that your pets might eat the fertilizer you apply to the plants, how about tossing the fertilizer into a 44 gallon drum (or other suitable container) filling it with water and then after about 10 days, using the now dissolved fertilizer as a 'tea' … water a well diluted solution over the plants – say 1:10 (one part solution to 10 litres water) and you can add liquid seaweed plus the Eco-products all at the same time!
We waste all our urine by flushing it in the toilet… pee into the above solution – girls, get creative but don't ask me to help you here –  If any of you Rose Rambler readers notice how your pets react to this application of liquid fertiliser rather than pellets, can you please let us know your findings … thanks – have a great week!
Joke of the week … Q. What do you do if a truck runs over your toe?  A. Call a toe truck ..!
Graham's joke leads me to tell this story … grandson Cooper was here and I helped him climb the large oak tree in the front garden – up and down, bouncing, swinging off like a monkey – all great fun until at the last minute, he fell and hurt his back and backside!  Walking to the house he asked me:  "Oma do you have bum cream?"  … yes, of course Oma has bum cream!  He laid on the floor while I applied the "that's cool Oma" bum cream … little one's have a way of melting you!
FINGER PRUNING …   So that all the flowers don't emerge at the same time and also to strengthen the branches for beautiful, sturdy bushes throughout this flowering season, go around the rose bushes now and pinch out the top leaflets of half of all the new growths.  You could use secateurs but because the growth is very lush, it breaks off easily.
If you do this 'finger pruning' now, you are guaranteed to have a very consistent production of flowers throughout the season – the bush will branch out very well and the flowering stems will be strong and robust.
You will also be reducing aphid activity on some of this lush young growth – they'll move into your neighbour's garden because you've taken the 'easy bits' away!  It works, believe me!!!  If you're at the Rose Farm in the next few weeks, ask me how to finger prune – always happy to show you this skill because it definitely lengthens the flowering season!
Alan in central coast N.S.W. is way beyond 'finger pruning' … he's been sending me beautiful photos of his rose blooms and here's 'SUMMER OF LOVE' … a glorious replacement for the old rose 'JOYFULLNESS' which has lost it's vigour and is no longer worth having in the nursery … take a look at this beauty and if you, like us, don't have rose blooms yet, here's what we have to look forward to …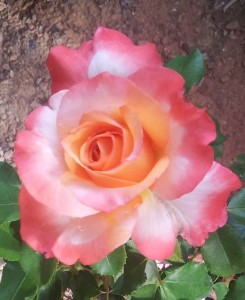 Have a wonderful week in the Spring garden … cheers from Clonbinane … Diana & Graham