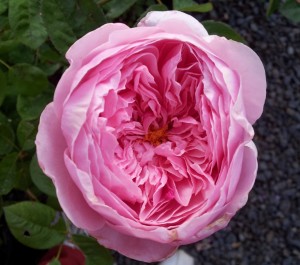 Bred by David Austin, UK, 1983 this beautiful little shrub should always be planted in a group of three to truly enjoy the bright warm pink, rosette shaped flowers.
Pretty Jessica is probably more widely grown for the name … many parents and grandparents have purchased this rose as a namesake for their Jessica and it truly is a very feminine, pretty rose with abundant fragrance to match its delicacy!
The lovely rounded shrub is only around 90cms tall and 60cms wide so should always be planted at the forward edge of the garden bed. The flowers are so entrancing that you will need to bend down to enjoy the delicious perfume. The foliage is mid-green and very healthy – this rose just loves the warm weather in our Australian gardens!
Low growing mound of colour
Bright pink and highly fragrant blooms
Continual flowering
Plant at forward edge of garden bed
CULTURAL NOTES:
The generally sunny, dry and hot conditions of the Australian garden are particularly well suited to planting roses and roses flourish in our gardens when you take measures to provide the following:
WATER – Roses are very deep rooted plants and require one good, deep soaking at least every 10 days in hot and dry conditions.
FEED – Because roses flower throughout all but the Winter season, they should be regularly fertilized with quality (preferably organic) fertilizer which contains a balance of major nutrients (NPK) and trace elements. The fertilizer should be applied at least once a month – small amount often – with fortnightly applications of liquid seaweed over the foliage.
PRUNE – During Winter, 70% of the rose plant should be pruned and all old wood removed back to the crown and the bush pruned to shape.
During the flowering seasons, 25% of all flowering stems should be cut back after flowering to encourage strong re-growth.
MULCH – Particular attention to application of lucerne or pea straw directly around the root-zone of each rose will enhance the overall health of the rose and then the whole bed should be mulched to 75mm with any other mulch medium available.