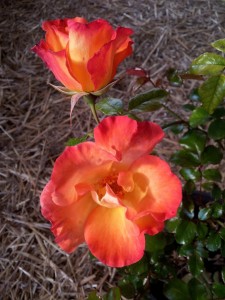 Bred by Cocker of Scotland in 1976 this incredibly delightful rose should be more widely planted for it's generous ability to produce immense clusters of flowers throughout the flowering season without any care or concern for the weather or however you maintain or neglect it – it's such a happy rose which was originally named 'Cheerio'!
The foliage of Playboy is so shiny and extremely healthy. It is one of the roses which, while flowering profusely, you can see the new growth and flower buds already being produced for the next round of flowers. If this rose was released today rather than nearly 40 years ago, it would be classed with the 'Modern Shrub Roses' because Playboy has the ability to flower all over the bush – from the ground up and it would make a real spectacle in a mass planting where it would require very low maintenance and mechanical pruning.
Sales of the Playboy rose usually have a fun and playful story attached and it is believed that the rose never sold well in the UK because of the name! One charming lady once had to buy this rose "…because I don't have a playboy in my bed, I should really have one in my garden" and I'm sure she was eternally happy!
One of the happiest and healthiest roses
Mass planted it would be a real spectacle
Extremely healthy and abundant flowering
Brilliant as a cut flower for a stand-out arrangement
CULTURAL NOTES:
The generally sunny, dry and hot conditions of the Australian garden are particularly well suited to planting roses and roses flourish in our gardens when you take measures to provide the following:
WATER – Roses are very deep rooted plants and require one good, deep soaking at least every 10 days in hot and dry conditions.
FEED – Because roses flower throughout all but the Winter season, they should be regularly fertilized with quality (preferably organic) fertilizer which contains a balance of major nutrients (NPK) and trace elements. The fertilizer should be applied at least once a month – small amount often – with fortnightly applications of liquid seaweed over the foliage.
PRUNE – During Winter, 70% of the rose plant should be pruned and all old wood removed back to the crown and the bush pruned to shape.
During the flowering seasons, 25% of all flowering stems should be cut back after flowering to encourage strong re-growth.
MULCH – Particular attention to application of lucerne or pea straw directly around the root-zone of each rose will enhance the overall health of the rose and then the whole bed should be mulched to 75mm with any other mulch medium available.