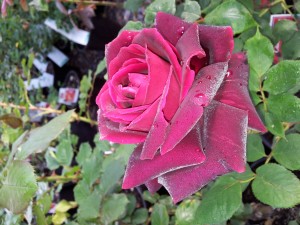 Bred in the USA by Swim & Weeks in 1964 it was named after the State of Oklahoma which translates to: 'Red Man's Land' – how appropriate because men really do love this rose.
Oklahoma has very large flowers from long, ovoid buds with high centres and perfect symmetry. Borne on single stems, the heavy flowers are sometimes 15cms across and there are more than 40 very highly fragrant petals in each flower.
For all its wonderful perfume and dark, dark red petals, Oklahoma has a few faults which need to be considered prior to growing it yourself … in the very hot, sunny weather, Oklahoma tends to scorch and in very cold weather, it never quite gets to dark red but pales to dark purple/magenta. I don't mind those variables but I do not like the weak neck which makes it difficult to place in a vase – it is more suited to 'Pearly Petals' (submerged in water and solution) or floating in an open bowl.
Oklahoma is a very tall rose, growing to 1.8mts and branches very nicely to 1.2mts so it does need some good space and although the foliage is dark, matt green, without regular maintenance spraying, Oklahoma will succumb to mildew and black-spot.
One of the darkest red garden roses
Magnificent fragrant
Huge flower buds
Enjoy for masses of fragrant petals to dry
CULTURAL NOTES:
The generally sunny, dry and hot conditions of the Australian garden are particularly well suited to planting roses and roses flourish in our gardens when you take measures to provide the following:
WATER – Roses are very deep rooted plants and require one good, deep soaking at least every 10 days in hot and dry conditions.
FEED – Because roses flower throughout all but the Winter season, they should be regularly fertilized with quality (preferably organic) fertilizer which contains a balance of major nutrients (NPK) and trace elements. The fertilizer should be applied at least once a month – small amount often – with fortnightly applications of liquid seaweed over the foliage.
PRUNE – During Winter, 70% of the rose plant should be pruned and all old wood removed back to the crown and the bush pruned to shape.
During the flowering seasons, 25% of all flowering stems should be cut back after flowering to encourage strong re-growth.
MULCH – Particular attention to application of lucerne or pea straw directly around the root-zone of each rose will enhance the overall health of the rose and then the whole bed should be mulched to 75mm with any other mulch medium available.