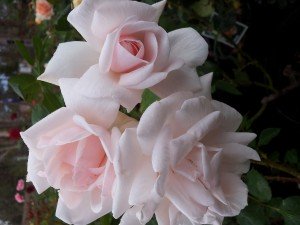 Sport of Dr. W. van Fleet, introduced in 1930 by Somerset Rose Nursery and inducted to the World Rose Hall of Fame in 1997 this wonderful climbing rose is seen in some of the oldest gardens in Australia and because of it's R. wichuriana parentage, the pliable though thorny canes, make it a climber suitable to accommodate any garden design … you be the boss and New Dawn will comfortably comply with whatever you wish it to do. Let it have it's head and scramble over an old garden shed, attach it to the fence and cut it frequently, attach it to a pillar in the middle of a garden bed and then let it go to the sky or train it over a garden arch and attack it once a year with the hedger.
There is one minor draw-back – New Dawn has the most vicious thorns so it's not the rose that you 'play' with and it really is better suited to the old shed than the neat espalier along the fence or the 1.0mt wide garden arch which you purchased at the local hardware shop and put together one Saturday morning!
The foliage is small, glossy and plentiful. If fertilized whilst in full-bloom, the foliage will retain it's glossy health but can otherwise resort to black-spot. During the flowering season, New Dawn will always have clusters of flowers and once you have grown this magnificent rose, you can understand why it was inducted to the World Rose Hall of Fame in 1997.
Magnificent climbing rose that let's you be the boss
Delightful shaggy cameo pink blooms in profusion
Thorns to keep potential intruders at bay
Flowers all season
CULTURAL NOTES:
The generally sunny, dry and hot conditions of the Australian garden are particularly well suited to planting roses and roses flourish in our gardens when you take measures to provide the following:
WATER – Roses are very deep rooted plants and require one good, deep soaking at least every 10 days in hot and dry conditions.
FEED – Because roses flower throughout all but the Winter season, they should be regularly fertilized with quality (preferably organic) fertilizer which contains a balance of major nutrients (NPK) and trace elements. The fertilizer should be applied at least once a month – small amount often – with fortnightly applications of liquid seaweed over the foliage.
PRUNE – During Winter, 70% of the rose plant should be pruned and all old wood removed back to the crown and the bush pruned to shape.
During the flowering seasons, 25% of all flowering stems should be cut back after flowering to encourage strong re-growth.
MULCH – Particular attention to application of lucerne or pea straw directly around the root-zone of each rose will enhance the overall health of the rose and then the whole bed should be mulched to 75mm with any other mulch medium available.