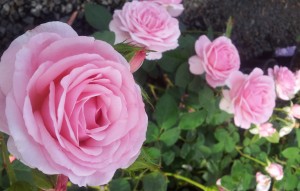 Released by Swane's Nursery this rose is exclusively grown in Australia and our conditions are perfectly suited to this exceptionally healthy, free flowering rose.
My Hero produces an abundance of classic, shining rose pink blooms which clothe the shrub over a very long flowering season. The petals are massed and have a rather old-fashioned look when the bloom is fully opened.
The perfume is exquisite and one truss of blooms will fill the vase and fragrance your home with lasting fruity freshness. The bush carries a mass of very lush, highly disease-resistant mid-green foliage which is a lovely foil for the continuing mass of blooms.
Extremely healthy modern shrub rose
Shining rose pink blooms in clusters
Exquisite fragrance
Continually in flower throughout the season
CULTURAL NOTES:
The generally sunny, dry and hot conditions of the Australian garden are particularly well suited to planting roses and roses flourish in our gardens when you take measures to provide the following:
WATER – Roses are very deep rooted plants and require one good, deep soaking at least every 10 days in hot and dry conditions.
FEED – Because roses flower throughout all but the Winter season, they should be regularly fertilized with quality (preferably organic) fertilizer which contains a balance of major nutrients (NPK) and trace elements. The fertilizer should be applied at least once a month – small amount often – with fortnightly applications of liquid seaweed over the foliage.
PRUNE – During Winter, 70% of the rose plant should be pruned and all old wood removed back to the crown and the bush pruned to shape.
During the flowering seasons, 25% of all flowering stems should be cut back after flowering to encourage strong re-growth.
MULCH – Particular attention to application of lucerne or pea straw directly around the root-zone of each rose will enhance the overall health of the rose and then the whole bed should be mulched to 75mm with any other mulch medium available.