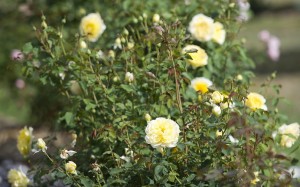 Bred by David Austin and introduced in 1994 this is one of the most neatly compact of the English Roses. The bush is lovely and rounded and of medium height to around 1 metre tall and almost as wide making this rose ideal for the rose garden border.
Molineux is always different in colour depending on the weather! It thrives in very hot conditions when the colour will be either rich, warm yellow fading to cream or the blooms might be quite cream with a deeper yellow centre. The heavily petalled rosette shaped flowers have a delightful English Rose fragrance and last well in the vase.
This delightful David Austin rose will always be flowering – one of the very first roses to flower in the Spring and you might find yourself wondering if it will ever stop flowering so that you can prune it in the Winter.
Tightly rounded shrub to 1 metre high
Extremely pretty rosette shaped flowers from yellow to cream
Loves the hot weather
Flowers over a very long, extended season