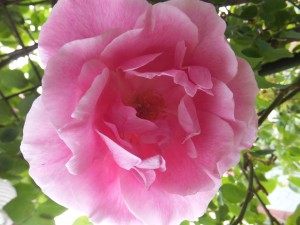 Bred by Pedro Dot, Spain, this magnificent rose is sometimes listed as "Spanish Beauty" which this rose most certainly is – the swirling waved petals of mid pink with slightly crimson flush on the reverse remind one of a Spanish dancer waving her frivolous skirts!
Mme. Gregoire Staechlin has the ability to stop one in their tracks when you see her flowering profusely on a warm spring day.  Every cane produces masses of almost single flowers with ruffled and waved petals exuding the most heady old-rose fragrance.  The flowering period is only around four weeks but this rose should be planted for the experience of four weeks of glory!
This is a strong, vigorous climber which will easily cover 5 metres but can be kept trimmed to an archway – however, pruning should be kept to a minimum after flowering as the rose produces the most beautiful pear-shaped hips throughout the late summer and these hips are a magnificent sight as they ripen.
Non-repeat climbing rose
Spectacular sight when flowering in Spring
Produces masses of pear-shaped hips
Large, scrambling very healthy climber