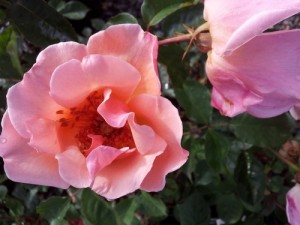 Bred by Gosset, UK, 1954 this very adaptable climbing rose demands attention with her large open blooms which display a bed of crimson stamens.
Meg may appear delicate but the plant is strong and vigorous with leathery, dark green leaves and very healthy.  The flowers are produced mainly in clusters throughout the summer and then in masses during the Autumn.
This climbing rose is very adaptable to many locations but looks particularly stunning against a creamy-white wall.  Ideal as a pillar rose and the thorns should be a consideration if planting over an archway!
Open blooms which display crimson stamens
Lovely salmon-apricot almost single blooms
Continual blooms – more profuse in the Autumn
Adaptable climbing rose for many situations