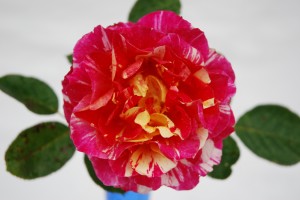 Introduced by Delbard in 2003 it is this rose that I can lay the blame for my passion and love of the striped roses.  I previously deplored the striped roses but had planted two standards of Maurice in the nature-strip garden bed which I had to walk past every morning.  The extreme difference in each bloom attracted my attention and more and more I came to enjoy the beauty in the craziness!
And then there was more … this rose was never shy to show off the flowers and the dark, dark green foliage was abundant, fresh and never diseased.  I started to fall in love and my passion for this rose will never wane.
Maurice Utrillo is one of the Delbard Great French Impressionist Painters series – honest, naïve yet passionate style and this glorious rose is all of that, from budburst through to the full, voluptuous and generous mature bloom.
Ideally suited to budding to a standard understock, Maurice Utrillo would make you want to waltz to the front door if it was planted along the path to your house!
Stunning colour blend of bright red and creamy yellow
Awesome health and vigour
Seriously free flowering
A crazy, beautiful rose!