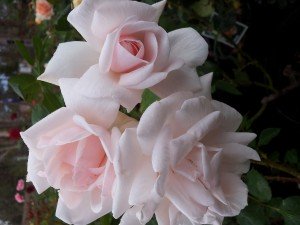 Bred by Guillot-Massad, France, 1996 this delightfully recurrent blooming shrub is tall and supports the blooms well on branching canes.  This commanding rose produces masses of heavily-petalled creamy blooms sometimes flushed pink at the edges – mostly in the cooler weather.
Martine Guillot has a delightful gardenia fragrance and would make a stunning bridal bouquet of roses … it exudes romance and loveliness!
The bushy shrub produces dense shiny and healthy leaves making it ideal to use as a rose hedge which is very low-maintenance and always in bloom.
Creamy large blooms sometimes blushed pink
Delightful gardenia fragrance
Dense shrub with healthy foliage
Low maintenance hedge row rose