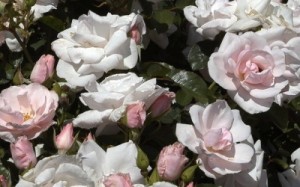 Bred by Meilland, France, this rose is an ideal birthday gift for the person who has everything and might be difficult to find something lovely for to remember their day!
Many Happy Returns produces masses of semi-double pale pink blooms continually throughout the season.  It is a very adaptable rose and can be grown in large tubs to create a mound of continual colour.
The foliage is tough and leathery with rather large dark-green leaves.  If left unpruned or dead-headed, there will be clusters of bright red rose hips all over the shrub and these hips are ideal to use as added decoration in a flower arrangement or harvested and used to make a wonderful rose-hip liqueur!
Ideal birthday present – most especially for women
Pale-pink, semi-double blooms in masses
Very tough, leathery leaves
Produces masses of rose hips if not pruned