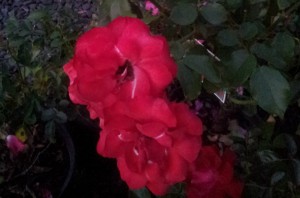 Introduced by Meilland, France in 1982 creating a break-though into the 'Landscape' series of roses when it was first released in Australia.
This incredible rose produces masses and masses of clusters of 8-20 flowers on each stem and before that group of flowers is completely finished on the stem, the next series of flowers is forming right behind it which means that the bush is NEVER without flowers in all weather conditions and sometimes even in the poorest soil conditions.
La Sevillana is extensively used in Australia for road-side and park planting because it is exceedingly free-flowering without much care and very low maintenance. In mass plantings, we recommend that La Sevillana be placed onto a water program for the first two years until well established – only in severe drought conditions would this wonderful rose require watering other than what Mother Nature provides and it will continue to flower throughout the season.
The new foliage on La Sevillana is bronze and darkens to mid-green with age; this is a wonderful foil for the bright red/vermillion blooms. It is very disease-resistant. Pruning with mechanical hedgers is encouraged during late Summer and again in late Winter.
Bullet-proof bright red landscape rose
Exceedingly free flowering in all conditions
Low maintenance rose
Ideal for long driveways and landscape planting
CULTURAL NOTES:
The generally sunny, dry and hot conditions of the Australian garden are particularly well suited to planting roses and roses flourish in our gardens when you take measures to provide the following:
WATER – Roses are very deep rooted plants and require one good, deep soaking at least every 10 days in hot and dry conditions.
FEED – Because roses flower throughout all but the Winter season, they should be regularly fertilized with quality (preferably organic) fertilizer which contains a balance of major nutrients (NPK) and trace elements. The fertilizer should be applied at least once a month – small amount often – with fortnightly applications of liquid seaweed over the foliage.
PRUNE – During Winter, 70% of the rose plant should be pruned and all old wood removed back to the crown and the bush pruned to shape.
During the flowering seasons, 25% of all flowering stems should be cut back after flowering to encourage strong re-growth.
MULCH – Particular attention to application of lucerne or pea straw directly around the root-zone of each rose will enhance the overall health of the rose and then the whole bed should be mulched to 75mm with any other mulch medium available.