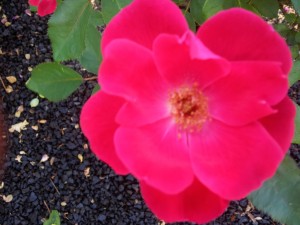 Bred by William J. Radler, USA, 1999, Knock Out has received prestigious awards in trial gardens throughout the world and in 2005 became the most purchased landscape rose in the United States and in 2010, the best selling rose of all time!
At the World Rose Convention in South Africa, 2012, we had the privilege to meet Bill Radler and it is exciting to report that through his breeding program, he has set the standard for sustainability in roses. We will see roses such as Knock Out along the highways and byways throughout Australia in the coming years because this series of roses has the capacity to withstand all weather conditions and tolerates little or no maintenance once established.
Knock Out is very dark, luminous pink and stands out. Although the label states that it will grow 1mt x 1mt, where it is presented with some support, it is growing well over 2mts high and will not stop flowering! This is a very versatile rose to grow in ANY sunny situation – free standing it will create a mound of continuous colour, grow it as a hedge and allow it to be as short or tall as the hedge needs to be or give it support and it will grow as a climber.
Extremely disease resistant and hardy
The most versatile rose to grow in any sunny location
Luminous, bright pink single blooms continually
Anybody can grow this rose without any problems!
CULTURAL NOTES:
The generally sunny, dry and hot conditions of the Australian garden are particularly well suited to planting roses and roses flourish in our gardens when you take measures to provide the following:
WATER – Roses are very deep rooted plants and require one good, deep soaking at least every 10 days in hot and dry conditions.
FEED – Because roses flower throughout all but the Winter season, they should be regularly fertilized with quality (preferably organic) fertilizer which contains a balance of major nutrients (NPK) and trace elements. The fertilizer should be applied at least once a month – small amount often – with fortnightly applications of liquid seaweed over the foliage.
PRUNE – During Winter, 70% of the rose plant should be pruned and all old wood removed back to the crown and the bush pruned to shape.
During the flowering seasons, 25% of all flowering stems should be cut back after flowering to encourage strong re-growth.
MULCH – Particular attention to application of lucerne or pea straw directly around the root-zone of each rose will enhance the overall health of the rose and then the whole bed should be mulched to 75mm with any other mulch medium available.