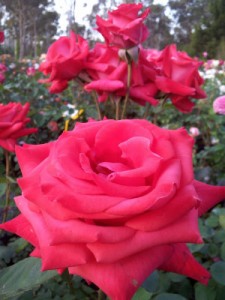 A sport of 'Kardinal' discovered by Graeme Catt and released in 2000 this lovely rose is the most appropriate gift on the occasion of a wedding anniversary and will continue to remind the recipient of their special day by producing the most amazing number of blooms that are neither red nor orange but a blend of both with some apricot thrown in just to give a subtle loveliness to what might otherwise be a harsh colour.
Happy Anniversary, like the parent sport, 'Kardinal' produces the most perfect Hybrid Tea shaped blooms with such enormous consistency and continuity – every bloom is perfect for the vase and once in the vase, will last and last.
The bush is very healthy with strong leathery, dark green foliage and the bush will grow to around 1.2 metres – you cannot resist picking the flowers for a vase!
Delightfully named rose for anniversary gift
Stunning colour of red/orange – not harsh
Blooms of magnificent HT form
Prolific, healthy and free flowering
CULTURAL NOTES:
The generally sunny, dry and hot conditions of the Australian garden are particularly well suited to planting roses and roses flourish in our gardens when you take measures to provide the following:
WATER – Roses are very deep rooted plants and require one good, deep soaking at least every 10 days in hot and dry conditions.
FEED – Because roses flower throughout all but the Winter season, they should be regularly fertilized with quality (preferably organic) fertilizer which contains a balance of major nutrients (NPK) and trace elements. The fertilizer should be applied at least once a month – small amount often – with fortnightly applications of liquid seaweed over the foliage.
PRUNE – During Winter, 70% of the rose plant should be pruned and all old wood removed back to the crown and the bush pruned to shape.
During the flowering seasons, 25% of all flowering stems should be cut back after flowering to encourage strong re-growth.
MULCH – Particular attention to application of lucerne or pea straw directly around the root-zone of each rose will enhance the overall health of the rose and then the whole bed should be mulched to 75mm with any other mulch medium available.