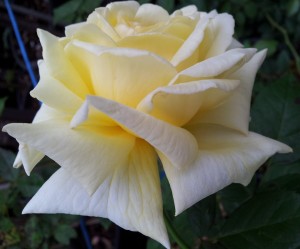 Bred by Dickson, UK, 1984, Elina commands recognition wherever she is planted by the robust height alone! Elina is a strong, vigorous bush with dark-green very disease-resistant foliage which adds enormous beauty as a foil for the huge, magnificently formed ivory blooms which are at least 15cms across and make perfect exhibition specimens, lasting very well in the vase. There is little fragrance.
Elina was named 'Peaudouce' (for a nappy company in England) and thankfully this name was later changed! Elina was introduced to the World Rose Hall of Fame in 2006 and received many Gold Medal Awards in trial gardens around the world.
Elina can be grown as a standard rose specimen but must then be very well staked to accommodate the vigorous growth. The first Spring flush of roses is a little later than other roses but Elina makes up for this by producing masses of strong, single stemmed flowers abundantly right up until the Winter frosts, is not fussed about all weather conditions and enjoys the company of a host of companion plants because she will grow taller than most other plants anyway!
A very highly recommended rose for any situation
Extremely healthy, vigorous, robust and free flowering
Large, long-stemmed blooms which last when vased
Suitable to grow as a tall hedge-row
CULTURAL NOTES:
The generally sunny, dry and hot conditions of the Australian garden are particularly well suited to planting roses and roses flourish in our gardens when you take measures to provide the following:
WATER – Roses are very deep rooted plants and require one good, deep soaking at least every 10 days in hot and dry conditions.
FEED – Because roses flower throughout all but the Winter season, they should be regularly fertilized with quality (preferably organic) fertilizer which contains a balance of major nutrients (NPK) and trace elements. The fertilizer should be applied at least once a month – small amount often – with fortnightly applications of liquid seaweed over the foliage.
PRUNE – During Winter, 70% of the rose plant should be pruned and all old wood removed back to the crown and the bush pruned to shape.
During the flowering seasons, 25% of all flowering stems should be cut back after flowering to encourage strong re-growth.
MULCH – Particular attention to application of lucerne or pea straw directly around the root-zone of each rose will enhance the overall health of the rose and then the whole bed should be mulched to 75mm with any other mulch medium available.