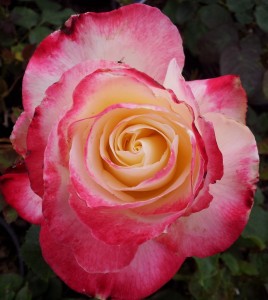 Bred in the USA by Swim & Ellis in 1976 this magnificent rose will be seen in gardens throughout Australia – popular mostly for the incredibly sweet perfume which is always evident and even a person with poor sense of smell will experience the pleasure of rose fragrance with this beauty. Double Delight has been a favourite rose with gardeners for many years and was inducted to the World Federation of Rose Societies, Rose Hall of Fame in 1985 being voted the people's choice most popular rose in that year. It's popularity is probably the cause of it's demise as today, the bush is more difficult to grow because it has a lot of disease issues!
Double Delight is a bushy plant and can grow to 1.5mts – particularly loves the hot weather when the cerise border becomes very defined and the fragrance supreme. In humid, wet weather, Double Delight sulks and the blooms refuse to open; the foliage is very susceptible to black-spot so this rose should be planted with lots of air circulation and few or no other plants around it.
In 1983 Double Delight Climbing was released and our experience of this rose is that it produced lots of foliage but very few flowers so we cannot recommend it.
Extremely distinct coloured cream with carmine border
Very highly fragrant blooms
Bushy growth
CULTURAL NOTES:
The generally sunny, dry and hot conditions of the Australian garden are particularly well suited to planting roses and roses flourish in our gardens when you take measures to provide the following:
WATER – Roses are very deep rooted plants and require one good, deep soaking at least every 10 days in hot and dry conditions.
FEED – Because roses flower throughout all but the Winter season, they should be regularly fertilized with quality (preferably organic) fertilizer which contains a balance of major nutrients (NPK) and trace elements. The fertilizer should be applied at least once a month – small amount often – with fortnightly applications of liquid seaweed over the foliage.
PRUNE – During Winter, 70% of the rose plant should be pruned and all old wood removed back to the crown and the bush pruned to shape.
During the flowering seasons, 25% of all flowering stems should be cut back after flowering to encourage strong re-growth.
MULCH – Particular attention to application of lucerne or pea straw directly around the root-zone of each rose will enhance the overall health of the rose and then the whole bed should be mulched to 75mm with any other mulch medium available