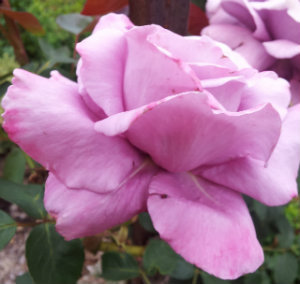 Another beautiful Hybrid Tea rose from the Meilland's of France, this sensational rose has been available to rose gardeners in Australia since the mid 70's. In New Zealand this rose is known as 'Katherine Mansfield' – one of their great writers. This rose was named after the renowned and great French Statesman "Charles de Gaulle".
Charles de Gaulle is particularly suited to being grown as a standard rose because it has a natural shape where the branches grow wide of the bud union and form an urn. It is not a particularly tall growing rose – to 1.2mts and almost as broad. It flowers continuously throughout the season on a somewhat short stem and can form a cluster of perfectly formed, very highly fragrant blooms on thick stems … as such, one stem is perfect to give the appearance of a whole vase of flowers! Charles de Gaulle was awarded the Belfast Fragrance Prize in 1978 and is exceptionally healthy and free-flowering in hot weather – in humid or wet weather this beautiful rose will have a tendency to sulk and not produce the magnificent flowers we come to expect from such an exceptional Hybrid Tea rose which is claimed to be the finest mauve rose!
One of the best old mauve roses
Highly fragrant blooms continually
Ideal to grow as a standard rose
Strong, healthy foliage
CULTURAL NOTES:
The generally sunny, dry and hot conditions of the Australian garden are particularly well suited to planting roses and roses flourish in our gardens when you take measures to provide the following:
WATER – Roses are very deep rooted plants and require one good, deep soaking at least every 10 days in hot and dry conditions.
FEED – Because roses flower throughout all but the Winter season, they should be regularly fertilized with quality (preferably organic) fertilizer which contains a balance of major nutrients (NPK) and trace elements. The fertilizer should be applied at least once a month – small amount often – with fortnightly applications of liquid seaweed over the foliage.
PRUNE – During Winter, 70% of the rose plant should be pruned and all old wood removed back to the crown and the bush pruned to shape.
During the flowering seasons, 25% of all flowering stems should be cut back after flowering to encourage strong re-growth.
MULCH – Particular attention to application of lucerne or pea straw directly around the root-zone of each rose will enhance the overall health of the rose and then the whole bed should be mulched to 75mm with any other mulch medium available.