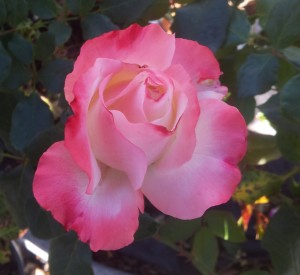 Bred by Delbard & Chabert, 1990, this delightful rose begs you to pick the buds and place them in a vase where they will slowly proceed to open and display a delightful cluster of stamens.
Carmagnole has deep cream flowers which fade to white and the outer petals are flushed with pleasant brush-strokes of medium pink which, as the flowers age, turn to very pale pink.
The bush is sturdy and extremely healthy – very, very large thorns in masses which make this a wonderful rose to plant as an impenetrable hedge-row which would keep both man and beast well away!
White edged pink flowers of incredible perfection and beauty
Extremely sturdy and free flowering shrub rose
Ideal for mass planting where no man or beast should go
Low maintenance, healthy shrub rose
CULTURAL NOTES:
The generally sunny, dry and hot conditions of the Australian garden are particularly well suited to planting roses and roses flourish in our gardens when you take measures to provide the following:
WATER – Roses are very deep rooted plants and require one good, deep soaking at least every 10 days in hot and dry conditions.
FEED – Because roses flower throughout all but the Winter season, they should be regularly fertilized with quality (preferably organic) fertilizer which contains a balance of major nutrients (NPK) and trace elements. The fertilizer should be applied at least once a month – small amount often – with fortnightly applications of liquid seaweed over the foliage.
PRUNE – During Winter, 70% of the rose plant should be pruned and all old wood removed back to the crown and the bush pruned to shape.
During the flowering seasons, 25% of all flowering stems should be cut back after flowering to encourage strong re-growth.
MULCH – Particular attention to application of lucerne or pea straw directly around the root-zone of each rose will enhance the overall health of the rose and then the whole bed should be mulched to 75mm with any other mulch medium available.