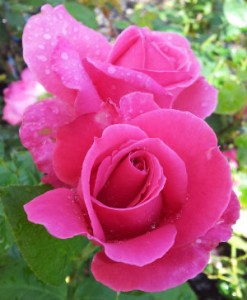 Bred by Meilland of France in 1998 and registered as 'Caprice de Meilland' until it came into Australia and was released under it's current name: Best Friend. This magnificent rose was named by the R.S.P.C.A to honour the unconditional love and special friendship which all animal lovers cherish. This exquisite rose produces long, strong stems of the most highly fragrant bright pink roses which are ideally suited for flower arrangements. The attractive large leaves are rather light green and the only warning with this rose is that it should be placed in an open position with lots of airflow because it has a tendency to get powdery mildew if it is against a wall or has other plants growing below it!
Best Friend is a very tall growing plant and yet is quite suitable to grow as a standard rose but must then be very well supported with a steel stake which extends 30cms beyond the bud union and kept well groomed throughout the flowering season … cut long stems of flowers each time you trim this magnificent rose and it will reward you with a continual supply of the most delightfully fragrant blooms to remind you of your Best Friend, man or beast!
Highly fragrant
Exceptionally beautiful hot pink blooms
Ideal for flower arrangements
Lovely name as a gift for many, varied occasions
Strong, tall grower suitable for hedge
CULTURAL NOTES:
The generally sunny, dry and hot conditions of the Australian garden are particularly well suited to planting roses and roses flourish in our gardens when you take measures to provide the following:
WATER – Roses are very deep rooted plants and require one good, deep soaking at least every 10 days in hot and dry conditions.
FEED – Because roses flower throughout all but the Winter season, they should be regularly fertilized with quality (preferably organic) fertilizer which contains a balance of major nutrients (NPK) and trace elements. The fertilizer should be applied at least once a month – small amount often – with fortnightly applications of liquid seaweed over the foliage.
PRUNE – During Winter, 70% of the rose plant should be pruned and all old wood removed back to the crown and the bush pruned to shape.
During the flowering seasons, 25% of all flowering stems should be cut back after flowering to encourage strong re-growth.
MULCH – Particular attention to application of lucerne or pea straw directly around the root-zone of each rose will enhance the overall health of the rose and then the whole bed should be mulched to 75mm with any other mulch medium available.