ROSE RAMBLER 07.12.2017 …
Hello, dear rose friends after an amazing weather event here at Clonbinane where we recorded more than 160mm of rain since last Thursday.  It was 'nice' rain as it fell quietly and simply rained day and night!  Of course, the blooms are damaged so we'll have a massive program of 'summer pruning' and in order for you to learn all about it, come for a demo this Saturday.
ALL ABOUT SUMMER PRUNING & GENERAL SUMMER ROSE GARDEN MANAGEMENT SATURDAY 9TH DECEMBER – 1 PM – 2.30-3.00PM
Bring your secateurs for a sharpen and general check and wet-weather shoes to walk into the gardens where it's still sopping wet!  If you have a rose flower you want to be identified, bring that along too!
GRA'S GARBLE …
Since it's the silly season, let's start with a joke
Q. What do you call an attractive pig?  A. A good snort. 
Enjoy your Christmas ham!
CONGRATULATIONS To Gary, Steve and the team at ORGANIC CROP PROTECTANTS who distribute our organic rose management products.They recently released product SLASHER ORGANIC WEEDKILLER is a recognised winner … read the press release:We're super excited that SLASHER ORGANIC WEEDKILLER has picked up not one but two prestigious awards!  After 10 years of research and product development, it's incredibly rewarding to have our work recognised by these awards.
Here are the details:

Organic Product of the Year – 2017 Organic Consumer Choice Awards Organic Product of the Year (Non-Food) – 2017 Australian Organic Annual Awards for Excellence
SLASHER was one of 18 finalists in the Organic Consumer Choice Awards which are voted for by the public. Once all votes were tallied SLASHER was the standout winner. Big thanks to all that voted!!! It is particularly satisfying to see so much public support for the product given the short time it has been on the market.
 It's a further sign that more and more people are opting for safe organic options compared to questionable chemicals. The Australian Organic Annual Awards for Excellence are run by Australia's largest organic certifying organisation Australian Organic (formerly called the Biological Farmers of Australia – BFA).
To be shortlisted and then win is a big nod from the organic industry that SLASHER is a quality product. Weeds are one of the biggest challenges facing organic farmers and we are pleased that SLASHER is there to help
To celebrate this victory and encourage you to use SLASHER rather than harmful glyphosate weedkillers, we'll take $5 off every 1-litre bottle until current stock is runout.  We do have 5-litre packs available for pick-up at the Rose Farm – they'll also be reduced by $5 through December – a keen gardener would be thrilled to receive this product as a Christmas gift!
THE CHALLENGE OF WATER-SHOOTS ON ROSES …
"Hi there … Firstly, my roses are doing really well – thank you … just a quick question though. They are putting up a couple of quite long shoots with flower buds on top of them – much longer than the bush itself is.  Is this OK – what should I do re "pruning" these, either now or after the flowers have come out??  I might have to stake them up I think, they are so long."  Many thanks – Lyn

My response to Lyn … they're watershoots carrying heads of flowers and yes, you might have to stake them in these blustering weather conditions – we lost a lot in this past week … but ah, well, good pruning today will recover them and we'll have magnificent flowers again in January!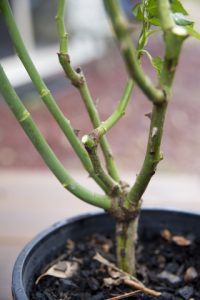 (Two lush branches on the left side are NEW WATERSHOOTS, three other branches are older watershoots and would be the first pruned out in favour of the two newer watershoots) If you see these shoots emerging in future, you might give them a trim 'on the way upwards' and this will stop them growing so high and the watershoot will branch out more in line with the overall bush height …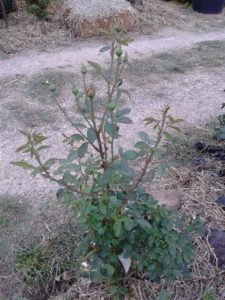 You're obviously doing everything 'right' by producing such healthy roses so loaded with blooms … enjoy!
I will teach you WATERSHOOT MANAGEMENT during the SUMMER PRUNING DEMONSTRATION and also show you the difference between WATERSHOOTS and SUCKERS so you'll be able to successfully manage both in your rose garden.
Here are my top picks for a GIFT ROSE this Christmas …
Just $73.90 delivered to your door by Australia Post …
Diana and her crew of ' reindeers ' will be busy gift wrapping and boxing any rose of your choice until the last posting on MONDAY, DECEMBER 18TH … order NOW and if you have to care for a rose prior to gifting on Christmas Day, just pop it in a sunny location and water it every morning – do trim spent flowers prior to gifting so it looks lovely!
ROSE CARE IN THIS HUMID WEATHER …
After such a rain event, it is important to take any opportunity (when the weather is predicted to be below 30 degrees) to apply the organic rose management program:To 10 litre bucket of water add:
¼ cup ECO-ROSE (FUNGICIDE) dilute with a burst of water then add
¼ cup ECO-OIL (INSECTICIDE / STICKER) reduce to ½ strength in hot weather
1 scoop ECO-SEAWEED POWDER or follow directions on pack of your preferred seaweed product!
MIX THEM ALL TOGETHER AND SPRAY TO RUNOFF OR POUR OVER PLANTS MONTHLY or more frequently if pests or disease are apparent. If a rose has succumbed to disease infection or just looks poorly after massive flowering and inclement weather conditions, give it a good prune, deep-soaking water and apply organic rose management spray – within weeks it will be flowering again!
I am hearing more and more people talk about how 'EASY' roses are!  They've certainly been hammered by all sorts of weather this past six months and when I open my eyes each morning and look out over the rose garden here, I am constantly reminded of their hardiness and magnificent beauty!
See you this weekend for the first SUMMER ROSE MANAGEMENT DEMONSTRATION – there will be one more before Christmas on 17th December and I will schedule another couple through January when you can bring the kids along too …  In closing:
Q.  What kind of snacks do noses like? A. SNEEZLES
… have a great week and take time out to smell the roses – especially now during this busy time of year.
Happy Festivities from Graham, Diana and the lovely team who make www.rosesalesonline.com.au and SILKIES ROSE FARM at CLONBINANE your TOTAL ROSE EXPERIENCE …