Hello dear rose friends as we enter the last weeks of autumn and the cold weather is starting to shut down our rose flowering for this season – we've already had some below zero frosts here at Clonbinane!
This is a very brief Rose Rambler offering you a chance to go into a draw for a spectacular MOTHER'S DAY GIFT PACK which includes the following: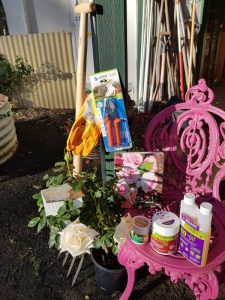 * Chair not included
DE WIT (Made in Holland) 4 Tine Garden Fork ($75.00), ALL ABOUT ROSES book ($30.00), LOWE SECATEURS ($62.50) along with our favourite rose gardener's gloves, organic rose management pack and a ROSE BUSH of your choice – TOTAL VALUE $300(includes pack/post if necessary!)
ALL CORRECT ANSWERS to Graham's joke will be placed in a draw for this great MOTHER'S DAY GIFT PACK to be drawn at the Rose Farm on MONDAY, 7TH MAY at 9.30am (so that it can be posted in time for Mother's Day gifting).
When answering the joke via email to:  info@rosesalesonline.com.au please don't forget to include your name, phone number and postal address!
Here's the joke Graham chose:
Q.  WHAT'S WORSE THAN FINDING A WORM IN YOUR APPLE?  
Have a great week in your garden and we'll be back with lots of rose garden talk next week … cheers from Graham, Diana and the team at Clonbinane.