ROSE RAMBLER 14.12.2017 …
Hello, dear rose friends for the second last …
GRA'S GARBLE FOR 2017…
… since it's even more 'silly season' this week than last week, let's lighten your mood with a joke … Q. Why did the man run around his bed?  A. Because he was trying to catch up on his sleep!
With the Christmas holidays looming, we'll all be able to catch up on some sleep and enjoy quiet time at home – hopefully, you'll make time for moments in your garden so here are a few TIPS FOR SUMMER ROSE GARDEN MANAGEMENT –
Watering roses is about DEEP-SOAKING at least 20 litres (or more) per weekly watering event so that water reaches way deep down into the root zone;
Watering should be carried out preferably in the early morning or up until 2 pm but NEVER in the evening when foliage is likely to be wet at sunset which can incur black-spot and mildew or rust on foliage;
Treat your garden to an application of quality fertilizer, especially since recent rains have leached a lot of nutrients from the soil;
Groom your roses … continually remove spent flowers and as a general rule-of-thumb, prune 1/3 of each rose stem during summer pruning – next week I will include a video of my PRUNING DEMONSTRATION – come along to the Rose Farm at Clonbinane this SUNDAY, 17TH DECEMBER commencing at 1.00pm.
Hot/dry weather conditions will 'burn off' fungal diseases like black-spot and mildew; if your roses are plagued by diseases you should continue to apply the organic rose management spray program – use it early in the morning and NEVER if the temperature is expected to exceed 28 degrees!
Most insects which cause issues for roses will hopefully decline in numbers – 'white-fly' which have been rampant this past season may still need to be kept in check with ECO-NEEM and ECO-OIL sprays – I suggest you avoid lethal chemicals!
SOME FUN THINGS TO DO WITH THE KIDS THIS SUMMER HOLIDAYS …
Go cow-padding with your family for a fun day out in the country air – collect bags of dried manure to take home to your garden for mulch.  Be sure and check with the property owner prior to entering private property!
Plant seedlings along a garden border – perhaps some veggie/herb seedlings in small pots or for a real novelty, drill holes in the sole of shoes which the kids have grown out of and plant them with pansies/petunias/lobelia or other flowers!
SPRAY EQUIPMENT WE USE …
An email from Jo prompted me to offer this advice about the two spray units we use here –
Hello Jo … I possibly overlook suggesting this:  ALL SPRAY EQUIPMENT MUST BE THOROUGHLY CLEANED AFTER EACH USE!  We actually use TriNature floor cleaner (Optimate) and disinfectant (Sphagnum Moss) spray in the tank after each use.
This ensures the spray head and line are also thoroughly cleaned because of the oil component in the mix!     We have had a 15 litre backpack spray unit SOLO which has been very reliable for more than 15 years and parts readily available if/when the repair was necessary.
I never fill it to capacity because I couldn't carry it and we use it predominantly for SLASHER weed killer and it is also used for BIODYNAMIC PREPARATION SPRAYING.
The unit we use in the nursery is a 50 litre SWAGMAN BATTERY POWERED SPRAY UNIT … it has served us extremely well for at least 10 years with only one new spray arm replaced due to mishandling – it's a trolley and can be easily pulled around.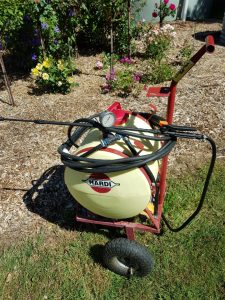 NEVER use GLYPHOSATE products (ROUNDUP) in the spray unit which you use for spraying your roses!
Q. What do you get when you cross a parrot with a pig?  A. A bird who hogs the conversation!
SPECIAL CHRISTMAS OFFER …
Which just might get you out of trouble at the very last minute and available until New Year's Eve …
GIFT VOUCHER CHRISTMAS SPECIAL *

FOR EVERY $100.00 YOU SPEND, WE WILL INCREASE THE GIFT VOUCHER VALUE BY ADDING AN EXTRA $20.00 TO THE REDEEMABLE VALUE OF THE VOUCHER
OFFER VALID UP TO 31st DECEMBER, 2017
*MAXIMUM 2 GIFT VOUCHERS PER CUSTOMER
BLACK ROSES …
Really?  Recently we've had several requests for black roses – we've been shown pics from Facebook of very dark, yes, almost black blooms –we think the stems might have been placed in black dye– you could try doing that.  When I experimented several years ago with dye using ICEBERG (white) roses, it didn't occur to me to use BLACK but the colours I used were successful as you can see in the pics below.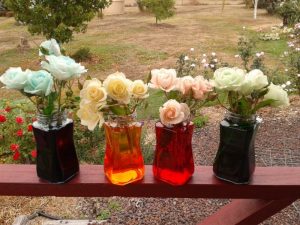 The colours intensified the longer the roses were in the dye and I could have made a very strong solution for greater colour intensity. Back to BLACK ROSES … the darkest, most highly fragrant rose available in our nursery is PAPA MEILLAND as when it first opens, the petals are black/red and the outer petals retain that dark hue right to the end – this picture was taken by Judith in Kyneton yesterday: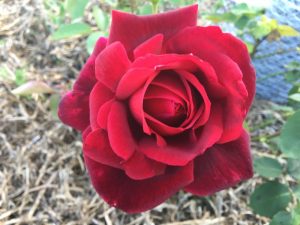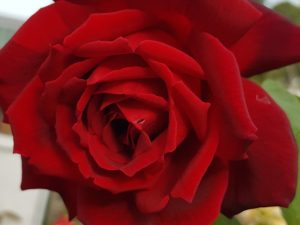 (Left: Judiths Papa Meilland
 Right: picture from nursery of Papa Meilland)
In praise of this magnificent rose, if you love the fragrance and darkest red combination in a rose, then grow PAPA MEILLAND!
REMEMBER – LAST ROSES WILL BE POSTED ON MONDAY, 18TH DECEMBER, 2017 and we WILL RESUME POSTING ON FRIDAY, 5TH JANUARY, 2018.
When it all gets too busy and you've had enough, pick up your secateurs and close out all of everything and go and trim your roses … speak with them while they tell you about themselves – a more interesting conversation could not ever be had!
Cheers from us all here at SILKIES ROSE FARM, Clonbinane
Within 500 metres of the CLONBINANE INTERCHANGE
on the Hume Freeway, 60 kms north of Melbourne
Open every Friday, Saturday, Sunday and Monday – 9am – 4pm
Phone 03 5787 1123
friend on Facebook | forward to a friend
rosesalesonline.com.au | allaboutroses.com.au | silkiegardens.com.au
Our mailing address is:
Rose Sales Online
550 Crn Spur and McDonald's Rds
Clonbinane, Victoria 3658
Australia